From seaside links to wild greens, the beauty of Australia's golf courses is a sight to behold. With a little help from the experts, we have put together Australia's best golf holidays.
Most of the following golf courses are ranked within the world's top 100 golf courses and take in some of the most spectacular natural scenery accompanied by a plethora of things to do in each region. From iconic wine regions, to award-winning day spas, fantastic restaurants and unique hot springs, there is something for everyone – even those non-golfing companions!
So grab your golf mates or travelling companions, and enjoy a few days of golf on multiple golf courses and reputable greens. There will be plenty to choose from when planning for your next golfing holiday or annual golf trip.
Trip 1. The Famous Melbourne Sandbelt
Victoria
The much acclaimed Melbourne Sandbelt is a region to the southeast of Melbourne Australia, known for its sandy soil and is host to eight of the best golf courses in Australia. A trip to these amazing Victorian courses will certainly make for one of Australia's best golfing holidays!
These Clubs have hosted countless championships including The Australian Open, The Johnnie Walker Classic, The Australian Masters, The World Match Play Championship, The Women's Australian Open, The Presidents Cup and the World Cup of Golf.
All sandbelt clubs are private clubs, but if you are a member of an international golf club that has reciprocal membership, then it is possible to play on some of these courses.
Where to play: Our suggestion is to make a week of it and incorporate the following courses; The Royal Melbourne East and West course, The Kingston Heath Golf Club, The Victorian Golf Club, The Metropolitan Golf Club and The Commonwealth Golf Club.
Where to stay: You can choose to base yourself in Melbourne's CBD, The Langham offers sophisticated and stylish lodgings just half an hour away or the Park Hyatt or Crown Metropol with spectacular views of the Melbourne CBD. All three provide an excellent base for your trip, located in the heart of Melbourne, you'll have dining and entertainment on your doorstep when you return for the evening.
Another city option is the Quay West Suites, airy luxurious apartments, conveniently located beside the Yarra River, on the Southbank Promenade of Melbourne's CBD.
Alternatively, stay at the Victoria Golf Club, perfectly located if you prefer not to return back to the city each evening.
Royal Melbourne Golf Course – West – VIC
Designers: Dr Alister MacKenzie and Alex Russell (1931); Tom Doak (ongoing).
Average points: 99.5.
2018, 2016, 2014, 2012 rankings: 1, 1, 1, 1.
The Royal Melbourne Golf Club has been the preferred venue for big tournaments including the Australian Open, the World Cup, Bicentennial Class, and the Presidents Cup. The Course is a standout in Australia with its classic routing on superb land an boasts a vast number of world-class holes, brilliant green complexes, and bunkering. Meanwhile, the staff consistently present the course perfectly and the vegetation management is
world-class.
Royal Melbourne Golf Course is a combination of the greatest land, greatest design and the greatest construction ever seen in this wonderful country.
Royal Melbourne Golf Club – East Course – Black
Rock – VIC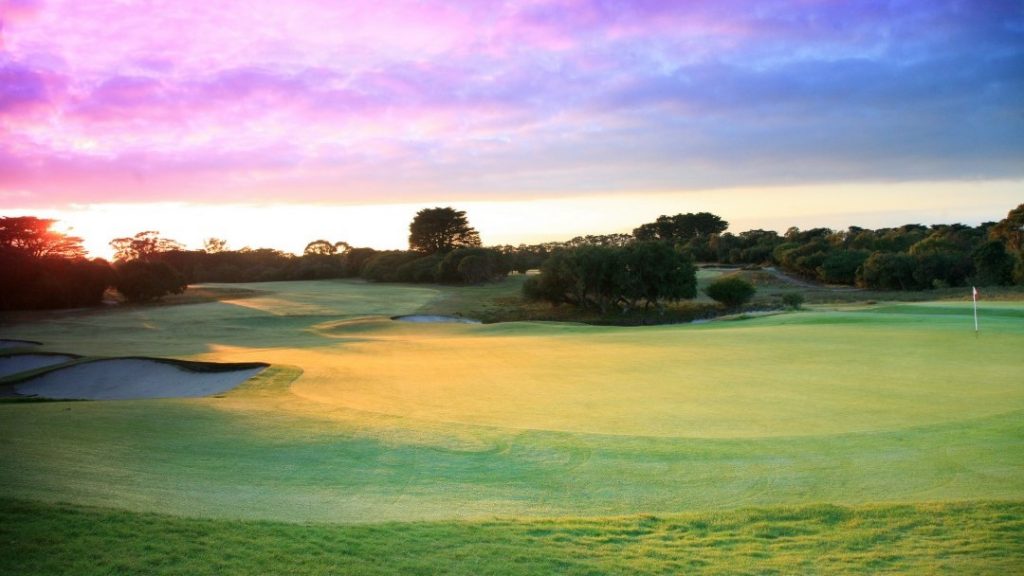 Designers: Alex Russell (1932); Tom Doak (ongoing).
Average points: 94.9.
2018, 2016, 2014, 2012 rankings: 6, 6, 7, 6
Former Australian Open champion Alex Russell and greenskeeper Mick Morcom built the West Course to Alister MacKenzie's plans and then added the East in 1931. Royal Melbourne's East Course was rated No. 7 in Australia and No. 19 in the World's 100 Greatest Golf courses by Golf Digest in 2018. Although Royal Melbourne West may get most of the attention, let's not forget the hidden gem its sibling – East Course. The East Course starts and finishes on the main site and is highlighted by seven 'home paddock' holes. Even though the greens are smaller than the West's, the bunkering is superb and beautifully constructed and sloped. It also incorporates some of the most dramatic undulations on the course.
Kingston Heath Golf Club – Heatherton – VIC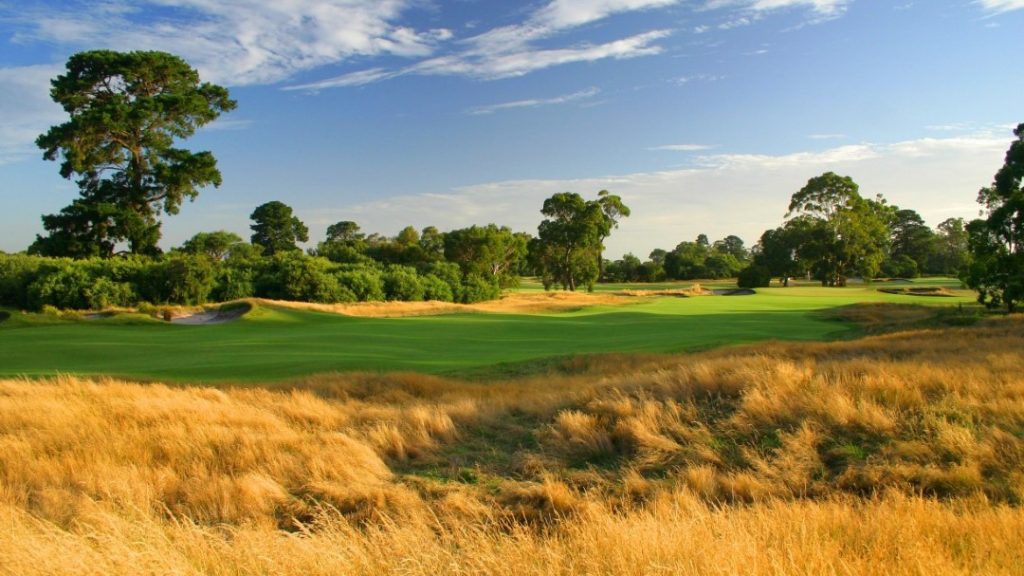 Designers: Dan Soutar (1925), Dr Alister MacKenzie (1926), Graeme Grant (1983-1995); Geoff Ogilvy, Mike Clayton, Mike Cocking & Ashley Mead – OCCM (2018); Geoff Ogilvy, Mike Cocking & Ashley Mead – OCM (ongoing).
Average points: 95.75.
2018, 2016, 2014, 2012 rankings: 4, 3, 4, 2.
Designed by Dav Soutar in 1925, this course is located in the famous sandbelt region of Melbourne. It has been suggested that Soutar created the best natural bunkering one would ever wish to encounter and Kingston Heath is an ultimate example of strategic golf. The long par four, 6th running parallel to the 1st and heading back towards the clubhouse is one of the best par fours in the country. It's, therefore, no surprise that Kingston Heath has stood the test of time and rates among the best courses in Australia and the world. The Australian masters were switched to Kingston Heath in 2009 where Tiger Woods is said to have won his first-ever stroke play title in Australia.
Matt Mollica is also quoted to have said "Kingston Heath continues to enjoy a very high ranking. The Heath is a magnificent place to play golf and features so many wonderful shots. The course's bunkering consistently wins acclaim from all who play there, and the green complexes are among the best in the nation".
Things to do in the Region:
Melbourne is a cosmopolitan city brimming with arts, music, shopping and fine cuisine, finding activities in Melbourne for the non-golfer is easy! Take in a long lunch or check out the Royal Botanic Gardens leading the way in conservation of plants through biodiversity research, programs to protect rare and threatened plants. Drop into the magnificent National Gallery for a taste of fine arts. Step out onto Eureka Skydeck for jaw-dropping 360° degree views of the city. Take a day trip to the Yarra Valley to sample some wine or venture further a field down the Great Ocean Road. Browse the open-air Queen Victoria Markets packed with fresh produce, clothes and bric-á-brac. Take in a play or live show at one of the many entertainment venues Melbourne has to offer. Or simply relax and pamper yourself at one of the many indulgent day spas in Melbourne.
Trip 2. Mornington Peninsula
Victoria
Boasting stunning scenery and a whole host of activities, it's no wonder a golf trip to the Mornington Peninsula is a popular choice and one of Australia's best golfing holidays.
Our suggestion for the Mornington region is to incorporate 18 holes at the following golf courses; Peninsula Kingswood Country Club North and South course, The National Golf Club – Cape Schanck which has 4 courses Gunnamatta Course, Moonah Golf Course, Old Golf Course and Long Island Golf Course.
Where To Stay: RACV Cape Schanck on the Mornington Peninsula is perfectly positioned to enjoy this scenic region and rests in close proximity to the course at Gunnamatta. Alternatively, stay onsite at Peninsula Kingswood's luxury accommodation right in the heart of the Sandbelt or Peppers at Moonah Links.
Peninsula Kingswood Country Club – North
Course – Frankston – VIC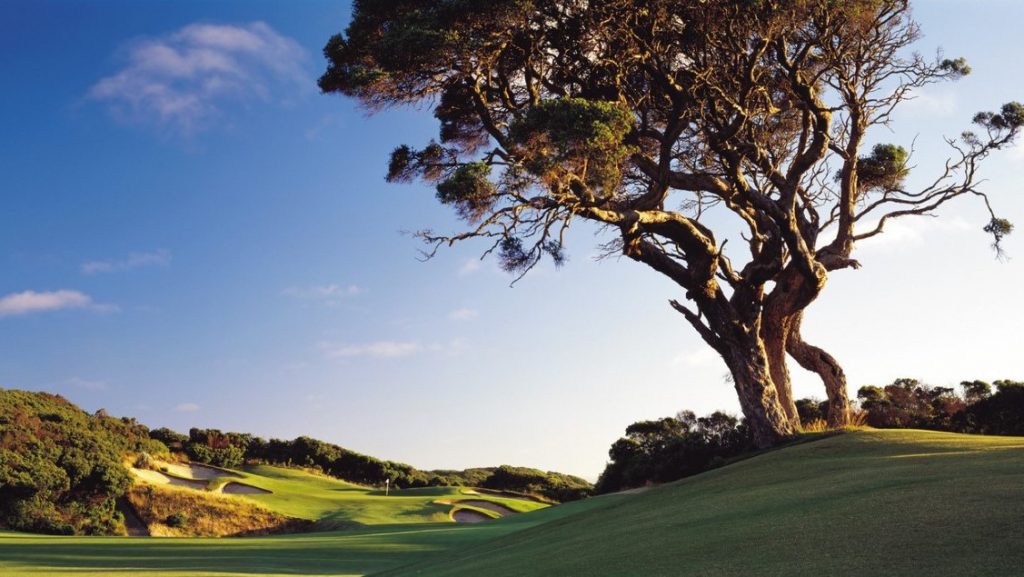 Designers: Sloan Morpeth (1969); Mike Clayton (2002); Geoff Ogilvy, Mike Clayton, Mike Cocking & Ashley Mead – OCCM (2019).
Average points: 96.33.
2018, 2016, 2014, 2012 rankings: NR, 20, 18, 17.
As part of the famouse Sandbelt region, this course could be accessed from Trip #1 but it's location in the bayside city of Frankston, brings it in closer proximity to your Mornington Trip #2. The Peninsula Kingswood is home to two championship golf courses. Sloan Morpeth built its North and South courses in the 1960s before local golf designer Michael Clayton was employed to oversee revisions to all 36 holes in 2002. Both courses were redesigned again in2014. The most recent changes were unveiled in late 2018 with the radical reshaping of all 18 greens, tees, and much of the bunkering. Course conditioning was also part of the improvements as well as resurfacing the greens to Pure Distinction bentgrass which provides a beautiful surface to putt on.
Showcasing one of the best land parcels for golf on the sandbelt, with exceptional green complexes and gorgeous bunkering, this course is full of great green complexes and clever fairway bunkering.
The National Golf Club – Gunnamatta Course –
Cape Schanck – VIC
Designer: Tom Doak (2019).
Average points: 92.9.
Debut ranking: 10
Tom Doak designed the Gunnamatta course which ensures the club to continue as a top-ranked piece of golf real estate in the country. His re-working of the old Ocean course has been a revelation, the routing becoming more sophisticated and the greens, more organic and individual. The National Golf Club is located at Cape Schanck on Victoria's spectacular Mornington Peninsula just a short drive south of Melbourne. Tom Doak added a high degree of variety and fun factor, ultimately making the course playable for a wide range of golfers.
St Andrews Beach Golf Course – Cape Schanck – VIC
Designers: Tom Doak
Average Points: 89.98
Ranking: 13
St Andrews proclaims itself 'a true golf experience' shunning sign ins and membership committees in favour of simply good golf. A challenging course, it rewards risky play, but wide fairways make it accessible to the average golfer. Tom Doak's course design impressively incorporates the natural terrain, with a strategic layout that demands players consider their shots carefully. The surrounding landscape offers scenic views over open, rolling greens and native flora.
Things to do in the Region:
In this stunning part of the world you are blessed with many activities to keep you amused. Visit the award-winning Peninsula Hot Springs and relax in the thermal mineral waters or visit the day spa. The Ashcombe Maze & Lavender Gardens are another popular choice for visitors to the area. Visit one of the many Mornington Peninsula wineries or the famous Cape Schanck Lighthouse. Spend the day browsing though art galleries and studios or swim with the Dolphins and Seals on the picturesque Mornington Peninsula.
Trip 3. King Island & Tasmania
Tasmania
Some of the finest courses in the world are located in Tasmania and King Island. Where the weather is cool and unpredictable it's important to plan your trip in the warmer months. King Island lies in the Bass Strait between Victoria and Tasmania and is a fantastic spot to enjoy some of Australia's best golfing holidays.
Our suggestion would be to start on King Island for 3 nights experiencing the world class Cape Wickham Golf Links course with a fantastic mix of coastal holes cleverly routed around Cape Wickham Lighthouse then head over to the majestic Ocean Dunes course facing the Great Southern Ocean. Then take a charter flight to Bridport and play the two iconic Barnbougle courses The Dunes and Lost Farm links.
Where To Stay: Cape Wickham, King Island Stay right on the beautiful shores of Victoria Cove and next to the half-acre putting green known as Lighthouse Loop.
Cape Wickham Links – King Island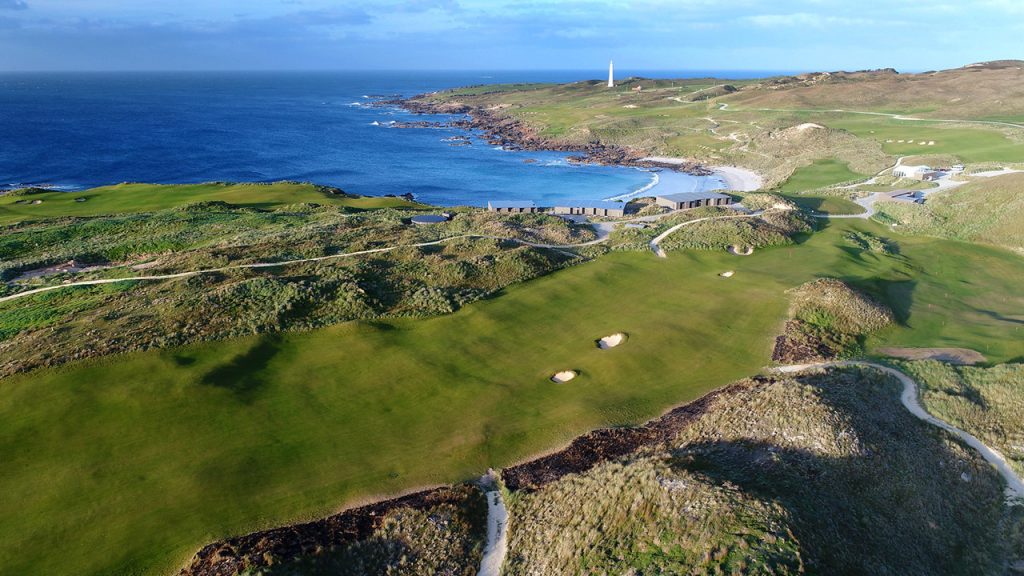 Designers: Mike DeVries & Darius Oliver
Average Points: 98.89
2018, 2016, 2014, 2012 rankings: 3, 5, NR, NR
Cape Wickham Links was designed by Mike DeVries and construction of the course was completed late in 2015. It quickly gained international recognition in the world rankings. With abundant views of the Bass Strait on every side, the land is gently undulating and interspersed with giant sand dunes, ridges, and the beach.
The holes are built right on the coastline and stunning ocean vistas can be viewed from anywhere on the course. With not a tree or farm shed in sight, you can feel the sensation of the surf breaking right on the greens. Furthermore, the impressive Cape Wickham Lighthouse (Australia's tallest at 48m) dominates the site and adds to a photographer's paradise. On a clear day, you can look across the Bass Strait and see the Otways some 100km away.
Ocean Dunes – King Island
Designers: Graeme Grant
Average Points: 93.67
2016 rank: Debut
Ocean Dunes is King Island's 2nd newest opening in 2016. The scenic course ranks extremely well both domestically and internationally. Architect Grant chose to fescue for the tees and fairways and bentgrass to carpet the greens. The course was built by fellow director Bernie McMahon .
A challenging course, in excellent condition with some fantastic holes set in a superb location with rolling dunes and ocean views. Six of the holes are located on the coast with the par threes at the 130-meter 4th and 210-meter 10th vying for 'signature hole' status. A few tees require long carries and two tees cross over the water. The ocean side holes are visually stunning and are designed to give you plenty of options depending on the conditions of the day. The 10th and 11th holes have been labeled as 'unforgettable gems'!
Things to do in the King Island Region:
The island is known for its production of cheese, lobsters, bottled rain water, kelp, and beef. A must see for visitors to the island is the King Island Dairy Cheese Store to sample some of the many award-winning cheeses. Take a trip out to the Cape Wickham Light House and over to Disappointment Bay – you will not be disappointed by the long stretches of white sand along this beautiful beach. For the more adventurous, take a trail ride along the beach on horse back, with King Island Trail Rides or hike the Marine Trail around the island and learn about the history of immigration to Australia.
Barnbougle Dunes – Bridport – Tasmania
Designers: Tom Doak & Mike Clayton – 2004
Average Points: 98.15
2018, 2016, 2014, 2012 rankings: 2,2,2,3.
In Golf terms, Barnbougle is quite young. Its opened in 2004 for play and was designed by renowned modern golf architect Tom Doak and ex European tour pro Mike Clayton. It was once just a strip of land along the coast of a potato farm on the North East Coast of Tasmania. As a result, the rolling fairways set amongst the wild and dramatic landscape look as though they were established many years ago.
The 18-hole golf course was designed to complement the natural layout of the coastal dunes and enhance the beautiful surrounding landscape. Since opening in December 2004, the Dunes has earned a position among the world's top-ranked golf courses. It has a WOW factor with an outstanding combination of great routing and terrific greens. Take note of the blend of fescue and bent grasses that flourish in the coastal environment. The fairways are also wide, probably wider than most golfers will experience on traditional courses. This course is designed to challenge with the 4th hole boasting the largest bunker in the Southern Hemisphere.
Barnbougle Lost Farm – Bridport – Tasmania
Designer: Bill Coore – 2010
Average Points: 97
Designer: Bill Coore – 2010
Average Points: 97
2018, 2016, 2014, 2012 rankings: 5,4,3,4.
Lost Farm is a course equal in quality to its older sibling next door. Bill Coore designed this masterpiece on Bass Strait to be wide and manageable in any wind, presenting dramatic tee shots and many thrilling approaches. Coore's reputation for minimalistic course design is paired with his philosophy that traditional, strategic golf is the most rewarding. His design at Lost Farm complements the canvas provided by nature.
Lost Farm quickly captured the attention of international golfers and within weeks of the opening was rated the #2 public course in Australia by Golf Australia Magazine and within 8 months, it entered the World Top 100 list. The sand dunes are also steep and dramatic, playing along the coast and inland featuring 20 holes.
Boasting spectacular holes that wind along the coast and run adjacent to Forester River then inland toward the Tasmanian hinterland, Lost Farm is a dramatically different course that complements both the surrounding landscape and Barnbougle Dune. There are also superb restaurants on the 15th Green overlooking the stunning Bass Strait.
Where to Stay: Stay on-site at Barnbougle Lost Farm ocean villas for amazing seaside lodgings or at The Dunes Cottages Barnbougle with dramatic golf course views.
Things to do in Tasmania Bridport Region:
Located in Tasmania's north-east, Bridport is a beachside holiday destination overlooking Anderson Bay. Surrounded by bush reserves, white sandy beach and sloping vines of Pipers Brook wineries, Bridport is an ideal place to relax. Visit the Granite Point Conservation Area during spring and find a beautiful array of wildflowers and prolific birdlife or take a dip in Mermaid Pool a tranquil cove that at high tide, provides a sheltered swimming hole. The Spa Lost Farm at Barnbougle has a spectacular day spa to relax and unwind. Stop in at Bridestowe Lavender Estate in December or January, one of Tasmania's premier tourist destinations. The largest Lavender farm in the Southern Hemisphere.
Trip 4. Sydney
New South Wales
Home to many iconic landmarks, spectacular beaches, diverse national parks, live theater, hatted restaurants, and most importantly the location of many a spectacular golf course. Our picks for Australia's best golfing holidays are the New South Wales Golf Club and the Lakes Golf Club two of Sydney's most reputable and prestigious clubs.
Where To Stay: The Langham Sydney presents classic luxury accommodation with views over Sydney's cityscape. Or try Sydney's historic Fullerton Hotel, housed in the former General Post Office Building in Sydney's central financial and fashion district will make for elegant lodgings near the course.
New South Wales Golf Club – La Perouse – NSW
Designers: Dr Alister MacKenzie (1928); Eric Apperly (1937 & 1951); Greg Norman & Bob Harrison (2010); Greg Norman (2018); Tom Doak (2019).
Average points: 91.33.
2018, 2016, 2014, 2012 rankings: 9, 7, 5, 5.
Situated on the rugged cliffs at La Perouse, New South Wales Golf Club overlooks Botany Bay where Captain Cook first sailed into Australia on the SS Endeavour. Bound by water on three sides, the layout is magnificently wild and exposed with a series of stunning holes built around, over, and through the hills and valleys that lead towards the coastline. The wind is a dominating factor in this course and the direction from which it blows makes any of the 18 holes comparatively easy or extremely difficult. Few courses of any era, or from any country are as exciting to play as the timeless New South Wales Golf Club.
The Lakes Golf Club – Eastlakes – NSW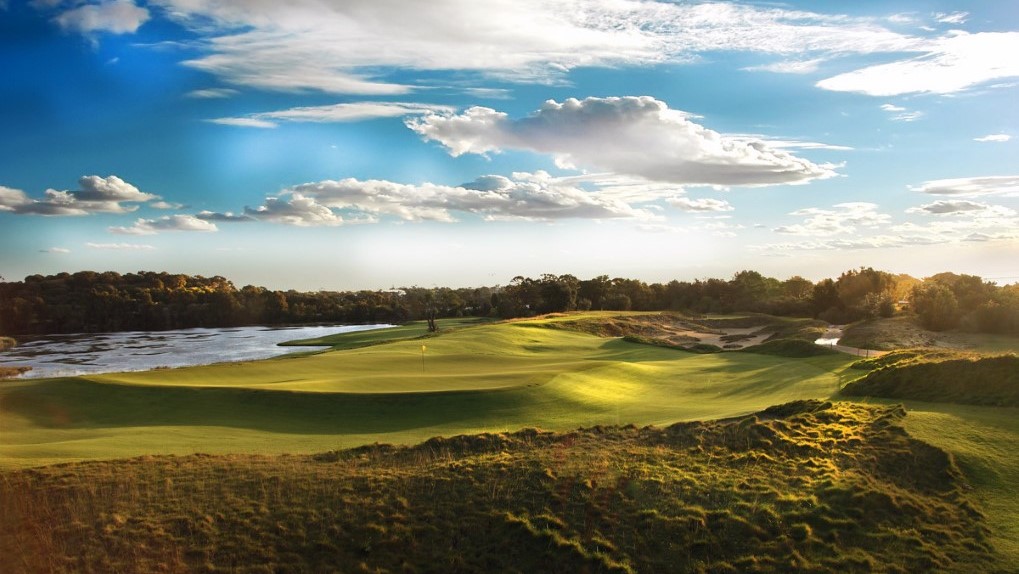 Designers: Bruce Devlin & Robert Von Hagge (1970); Geoff Ogilvy, Mike Clayton, Mike Cocking & Ashley Mead – OCCM (2009).
Average points: 85.9.
2018, 2016, 2014, 2012 rankings: 14, 15, 15, 13.
The Lakes Golf course was established in 1928 and is one of Sydney's most prestigious private golf clubs. Built around the lake which was part of the old Sydney water supply, the course showcases spectacular views of wildlife boarding Botany Aquifer and the wetlands area. It quickly became known as a challenging course with lakes posing daunting hazards on the course, albeit a beautiful backdrop. This course is a renowned championship venue. It has hosted multiple tournaments including Johnnie Walker Classic, the Greg Norman International, the PGA Championship and the prestigious Australian Open in 2010, 2011 and 2012.
One of the unique and popular features of the course is the Lakes sandy soil, enabling the course to be played in wet weather. After torrential rain, the water drains into the aquifers below, allowing play to resume generally within an hour of a passing storm.
Things to do in the Sydney Region:
Discover Sydney, with many iconic landmarks to explore from the Opera House to the Harbour Bridge climb and the thriving Bondi Beach. Catch a ferry to Manly and dine at one of the many unique restaurants. Take a day trip to the Blue Mountains and explore the Three Sisters or take a hike on the National Pass or down to Wentworth Falls. Get your wildlife fix at the famous Taronga Zoo offering one of the most spectacular views of Sydney Harbour . Sydney has a whole host of attractions to keep you entertained.
Trip 5. Joondalup Region
Western Australia
Where To Stay: COMO the Treasury is a modern, kitschy and classy hotel in the heart of Perth, just a 20-minute drive away from the course.
Lake Karrinyup Country Club – Karrinyup –
Western Australia
Designers: Alex Russell (1928); Mike Clayton (2008).
Average points: 83.9.
2018, 2016, 2014, 2012 rankings: 18, 14, 21, 14.
Lake Karrinyup Country Club is a private golf club consisting of 18 holes and a 9-hole short course. Alex Russell, the partner of famous golf course architect, Alister Mackenzie, designed the 1928 course. The course was then redesigned by Mike Clayton in 2008. Now, it is widely acknowledged as Western Australia's premier golf Club and home to the Johnnie Walker Classic in 2002 and 2003.
Dominated by the lake from which the course gets its name, it is located just 13km north of Perth's CBD. It is a tranquil botanical haven for wildlife including native birds and kangaroos, set amongst a forest of magnificent native trees and plants.
The Vines – The Lakes Course & The Ellenbrook Course
Designers: Graham Marsh, Ross Watson
Average Points: 39.69
Designers: Graham Marsh, Ross Watson
Average Points: 39.69
2018, 2016, 2014, 2012 Ranking: 79, 63, 58, 47
The Vines Country club has been home to the Johnny Walker Classic and the LPGA Lexus cup. The course architects Graham Marsh and Ross Watson take spectacular advantage of the swan valley landscape to penalize misses and reward accuracy. The fairways are generous enough to be accessible to the average golfer, and experienced golfers can challenge themselves from the championship tees.
The Ellenbrook course features open parkland lined with trees, while the typically higher ranked Lakes course offers many high risk, high reward challenges. The Vines is set in classic Australian Bushlands with an abundance of gum trees and kangaroos roaming the landscape
Joondalup Resort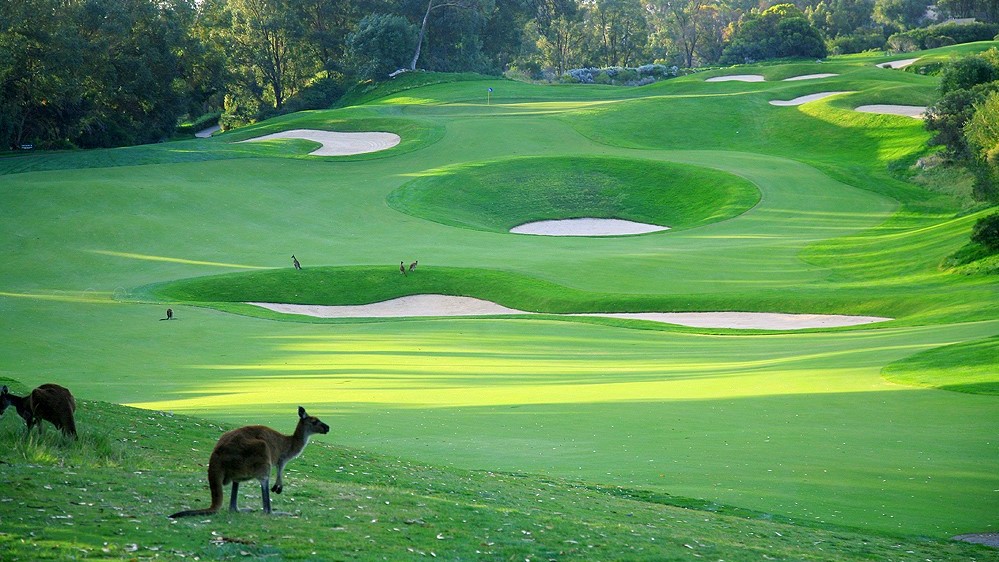 Designer: Robert Trent Jones Jr
Joondalup Resort's award winning 27-hole Championship Golf Course is open to the public every day. Dense bushland and limestone quarries make Joondalup a unique and challenging course. The rugged area was once a limestone quarry but thanks to architect Robert Trent Jones Jr's imaginative design, it is now a dramatic and interesting course. Many of the bunkers resemble moon craters, and the lunar landscape makes for a unique and challenging experience. There are huge elevation changes and dramatic slopes, with the par 3 3rd requiring an intimidating carry over a large quarry.
The unique course is well integrated with the unusual landscape upon which it rests, and its unique design makes for a surprising challenge to all newcomers regardless of their experience.
Things to do in the region:
Centrally located, only 20 mins from Perth, there are countless things to visit whilst in the Joondalup region. Take a trip over to the beautiful Rottenest Island, hire a bike and cycle the spectacular coastline keeping an eye out for the resident Quokka's native to the island. Meander through Yellagonga Regional Park, Joondalup's best hidden secret. Nature lovers can explore the native bushland that surrounds the 16-km circuit around Lake Joondalup. Take a boat cruise from Perth out to Swan Valley or a drive around the many wineries, breweries and gourmet food in the Swan Valley region. Visit the AQWA The Aquarium Of Western Australia and discover some of WA's spectacular marine life and coral reefs.
Trip 6. Gold Coast
Queensland
Famed for it's long, sandy beaches, surfing and nightlife, the Gold Coast is also home to many great golf courses. Our suggestions is to play at Royal Queensland Golf Club Eagle Farm, Sanctuary Cove's 2 courses The Pines and The Palms as well as Royal Pines Golf Course.
Where To Stay: The luxurious Sofitel Broadbeach or the modern Peppers Broadbeach will have you situated in style, high above the streets of the gold coast, and overlooking the gorgeous sands of Broadbeach.
Royal Queensland Golf Club – Eagle Farm – Queensland
Designers: Carnegie Clark (1920); Dr Alister MacKenzie (1926); Mike Clayton (2007 & ongoing).
Average points: 80.89.
2018, 2016, 2014, 2012 rankings: 23, 23, 22, 26.
Situated on the beautiful Brisbane River, the club was founded in 1920 and achieved royal status in 1921. It was originally designed by three-time Australian Open winner Carnegie Clark but Michael Clayton redesigned it for the 2007 reopening. This redesign focused on the course's greens and bunkers.
Sited on flat land, the trees are reminiscent of a botanical garden, which is emphasized by the high level of maintenance throughout the course. Most of the golf course is open, leaving a certain blank canvas perspective when approaching the course. A distinctive feature of Royal Queensland is the striking profile of the Gateway Bridge which soars high over the course and the adjacent Brisbane River. Overall, this is a quality course which has hosted 3 Australian Opens and four Australian Amateur Championships to date.
Sanctuary Cove – The Pines & The Palms Course – Hope Island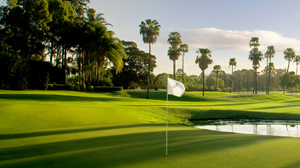 Designers: Arnold Palmer, Ross Watson
Ranking: The Pines – 45, The Palms – 48
Sanctuary Cove Golf Club borders the Coomera River on Hope Island, where two prestigious golf courses offer boundless opportunities for championship class golfing for all levels. The island's diverse terrain makes for interesting course design which incorporates all elements to its advantage. The Pines course carves its way through hectares of pine forest, with the course interspersed with several man made lakes which add further interest to an already challenging course. The shorter palms course is not as challenging as the Pines, but its imaginative bunkering and strategic design make it a cerebrally challenging and fun play. The undulating greens and wild bunkering make for joyful golfing suited to all abilities.
Royal Pines
Designers: Graham Marsh, Tomojiro Maruyama
Average Points: 41.75
Ranking: 74
Three, 18-hole courses offer variety for golfers at every level. Royal Pines has been home to the Australian PGA Championship and the Australian Ladies Masters. The course was redesigned in 2014, which greatly improved the course structure. Designer Graham Marsh was able to turn a flat and open course into a more structurally interesting play. The redesign took advantage of natural assets such as the lake on the short par 4 and remolded the landscape into a contoured and bunkered terrain which will challenge golfers both mentally and physically.
Things to do in the region:
The Gold Coast is the action capital of Queensland with multiple theme parks and numerous adrenaline activities to keep you on your toes. For nature lovers, take in one of the many national parks that surround the coast encompassing some phenomenal waterfalls and rock formations like Natural Bridge and Curtis Falls. Enjoy breakfast with the Birds at Currumbin Wildlife Sanctuary or take in a live theatre experience with Spirits of the Red Sand an evening of indigenous song and dance with a 3-course dinner. Immerse yourself in the history, beauty and vibrancy of the Aboriginal people.
Trip 7. Barwon Heads
Victoria
Bordered by rocky headlands, surf beaches, and the Barwon River, this region boasts 3 of the top 30 public golf courses in Australia and there are also plenty of natural wonders to explore. Typically featuring windy conditions and undulating, sandy terrain, the surrounding golf courses present a challenging and scenic experience for any golfing enthusiast.
Within a stone's throw of the coastal town of Barwon heads, you will find Barwon Heads Golf Club, Barwon Grove Golf Club, 13th Beach Golf Links and Ocean Grove Golf Club which present a wealth of charming and unique courses to explore.
Where to Stay: We recommend staying at Barwon Heads Golf Club's Clubhouse, which has been called the best clubhouse in Australia thanks to its heritage charm and the magnificent views from the balcony overlooking the course. Enjoy luxurious open fireplaces and variety of facilities including the billiards tables, tennis court, driving range and coaching area.
Barwon Heads Golf Club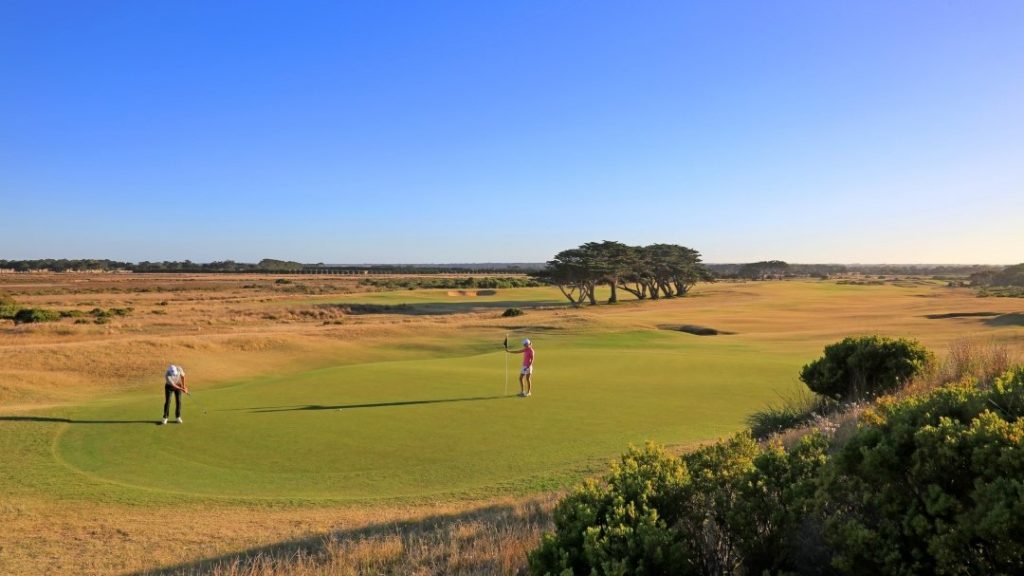 Designers: Leigh Winser, Crafter and Mogford
Average Points: 87
2018, 2019 Ranking: 8,7
Barwon Heads golf club was the first country club in Victoria established in 1907. The links course regularly rates in Australia's top golf courses, sitting at number 7 in 2019. Hazards, subtle slopes, and challenging tee positions await between sublimely maintained turf. The course is conveniently positioned beside the charming coastal town of Barwon Heads.
13th Beach Golf Links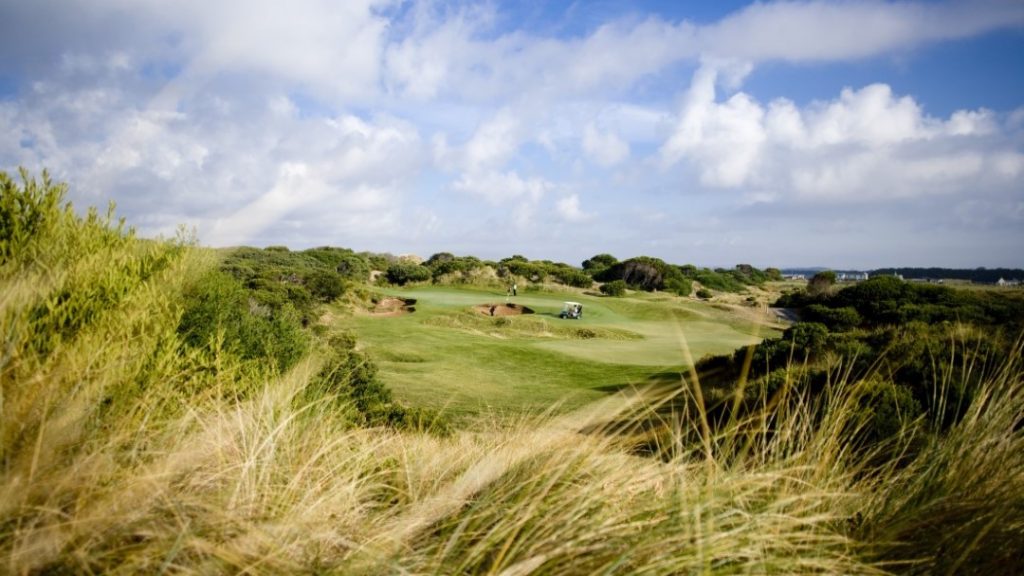 Designers: Tony Cashmore, Nick Faldo
Just a few kilometers along the coast you will find 13th Beach Golf Links, with two award winning courses, the Beach Course, and the Creek Course. The Creek Course feature deep cut bunkers and couch fairways, while the Beach Course plays away from the clubhouse and into rolling natural landscapes. The Beach course caused a stir when it opened in 2001, and found much acclaim for it's strategic design, and particularly for a set of par 3's.
Things to do in the region:
The coastal township offers ample opportunities to enjoy some retail therapy, scrumptious dining, and splashing in the surf. Explore the surrounding vineyards, eateries and distilleries and wander down Hitchcock Avenue to pick up some unique souvenirs. Take a surfing lesson and enjoy some of the best waves in the country, or simply enjoy a dip in the ocean. Learn about local marine creatures at the Barwon Bluff Marine Sanctuary or visit the koalas at Jirrahlinga Wildlife Sanctuary. For even more excitement, visit Barwon heads airport to embark on an incredible scenic adventure flight to view this beautiful region from above.
Trip 8. South Australia
South Australia
Royal Adelaide Golf club – Seaton – South Australia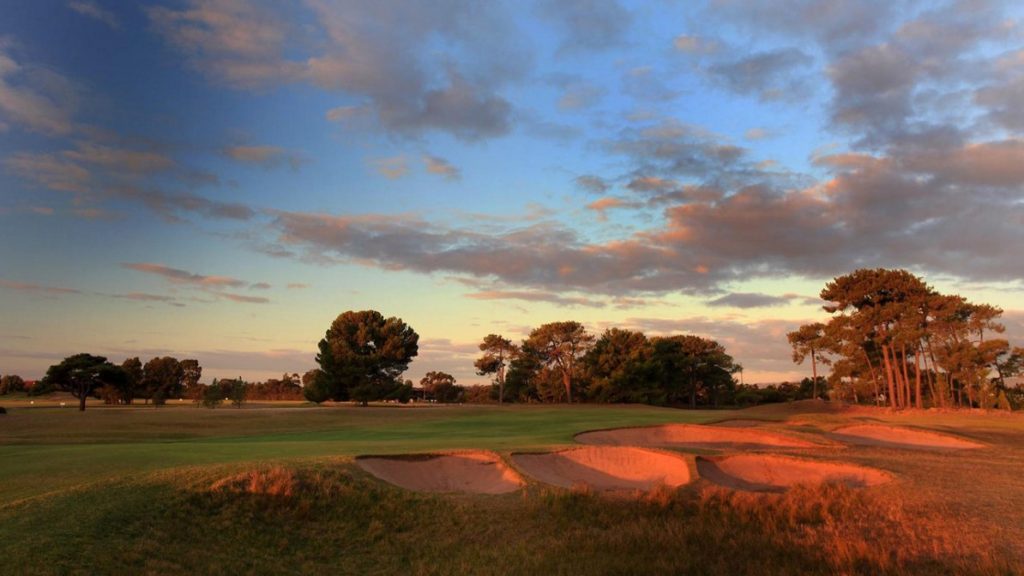 Designers: Dr Alister MacKenzie (1926); Peter Thomson & Mike Wolveridge (1979 & 1997); Mike Clayton (2009); Tom Doak (ongoing).
Average points: 93.15.
2018, 2016, 2014, 2012 rankings: 10, 10, 11, 10.
The Adelaide Golf Club is one of Australia's oldest golf courses and is a true treasure which continues to surprise with each round. Redesigned by Dr Alister MacKenzie in the mid-1920s, the understated simplicity of nicely undulating terrain, rolling mounds and a scattering of pine trees, masks some tough challenges.
The Royal Adelaide Golf Club links at Seaton has been the venue for many
international and interstate matches and championships, including 9 Open
Championships and 16 Amateur Championships of Australia. Although the Royal Adelaide has changed substantially over the years, it has still retained its fundamental character and charm.
Where To Stay: Peppers Waymouth Hotel Adelaide