Victoria is home to some of Australia's best golf courses with most of the following courses even ranking within the world's top 100 golf courses!
Accompanied by spectacular scenery and a whole host of natural wonders and places to explore in each region – even those non-golfing companions will enjoy our selection of Golf Holidays in Victoria.
From iconic wine regions, to award-winning day spas, fantastic restaurants and unique hot springs, there is something for everyone.
So grab your golf mates and travelling companions, and enjoy a few days of golf on multiple golf courses and reputable greens throughout Victoria. There will be plenty to choose from when planning for your next golfing holiday or annual golf trip.
Trip 1. The Famous Melbourne Sandbelt
Victoria
The much acclaimed Melbourne Sandbelt is a region to the southeast of Melbourne Australia, known for its sandy soil and is host to eight of the best golf courses in Australia. A trip to these amazing Victorian courses will certainly make for one of Australia's best golfing holidays!
These Clubs have hosted countless championships including The Australian Open, The Johnnie Walker Classic, The Australian Masters, The World Match Play Championship, The Women's Australian Open, The Presidents Cup and the World Cup of Golf.
All sandbelt clubs are private clubs, but if you are a member of an international golf club that has reciprocal membership, then it is possible to play on some of these courses.
Where to play: Our suggestion is to make a week of it and incorporate the following courses; The Royal Melbourne East and West course, The Kingston Heath Golf Club, The Victorian Golf Club, The Metropolitan Golf Club and The Commonwealth Golf Club.
Where to stay: You can choose to base yourself in Melbourne's CBD, The Langham offers sophisticated and stylish lodgings just half an hour away or the Park Hyatt or Crown Metropol with spectacular views of the Melbourne CBD. All three provide an excellent base for your trip, located in the heart of Melbourne, you'll have dining and entertainment on your doorstep when you return for the evening.
Another city option is the Quay West Suites, airy luxurious apartments, conveniently located beside the Yarra River, on the Southbank Promenade of Melbourne's CBD.
Alternatively, stay at the Victoria Golf Club, perfectly located if you prefer not to return back to the city each evening.
Royal Melbourne Golf Course – West – VIC
Designers: Dr Alister MacKenzie and Alex Russell (1931); Tom Doak (ongoing).
Average points: 99.5.
2018, 2016, 2014, 2012 rankings: 1, 1, 1, 1.
The Royal Melbourne Golf Club has been the preferred venue for big tournaments including the Australian Open, the World Cup, Bicentennial Class, and the Presidents Cup. The Course is a standout in Australia with its classic routing on superb land and boasts a vast number of world-class holes, brilliant green complexes, and bunkering. Meanwhile, the staff consistently present the course perfectly and the vegetation management is
world-class.
Royal Melbourne Golf Course is a combination of the greatest land, greatest design and the greatest construction ever seen in this wonderful country.
Royal Melbourne Golf Club – East Course – Black
Rock – VIC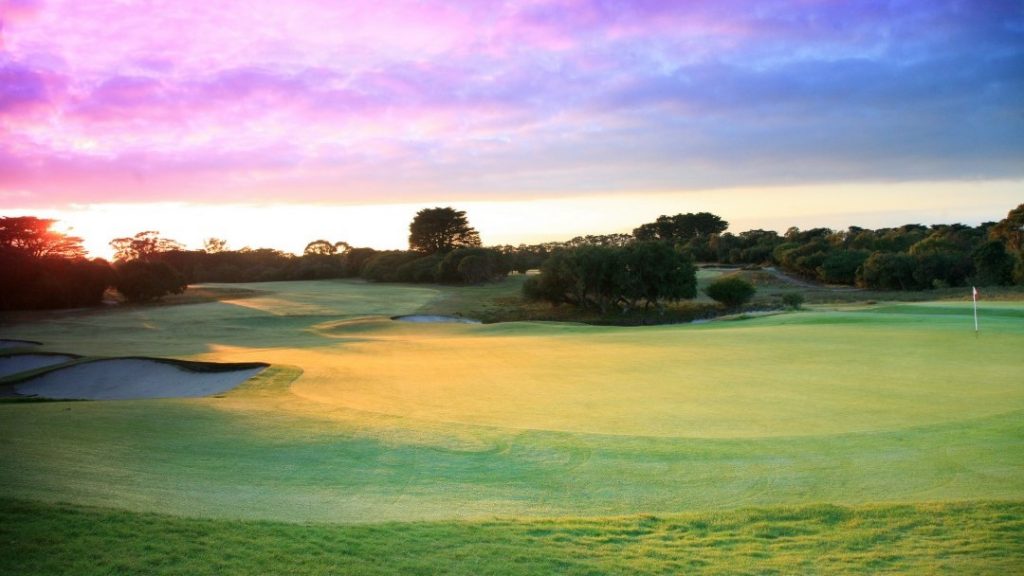 Designers: Alex Russell (1932); Tom Doak (ongoing).
Average points: 94.9.
2018, 2016, 2014, 2012 rankings: 6, 6, 7, 6
Former Australian Open champion Alex Russell and greenskeeper Mick Morcom built the West Course to Alister MacKenzie's plans and then added the East in 1931. Royal Melbourne's East Course was rated No. 7 in Australia and No. 19 in the World's 100 Greatest Golf courses by Golf Digest in 2018. Although Royal Melbourne West may get most of the attention, let's not forget the hidden gem its sibling – East Course. The East Course starts and finishes on the main site and is highlighted by seven 'home paddock' holes. Even though the greens are smaller than the West's, the bunkering is superb and beautifully constructed and sloped. It also incorporates some of the most dramatic undulations on the course.
Kingston Heath Golf Club – Heatherton – VIC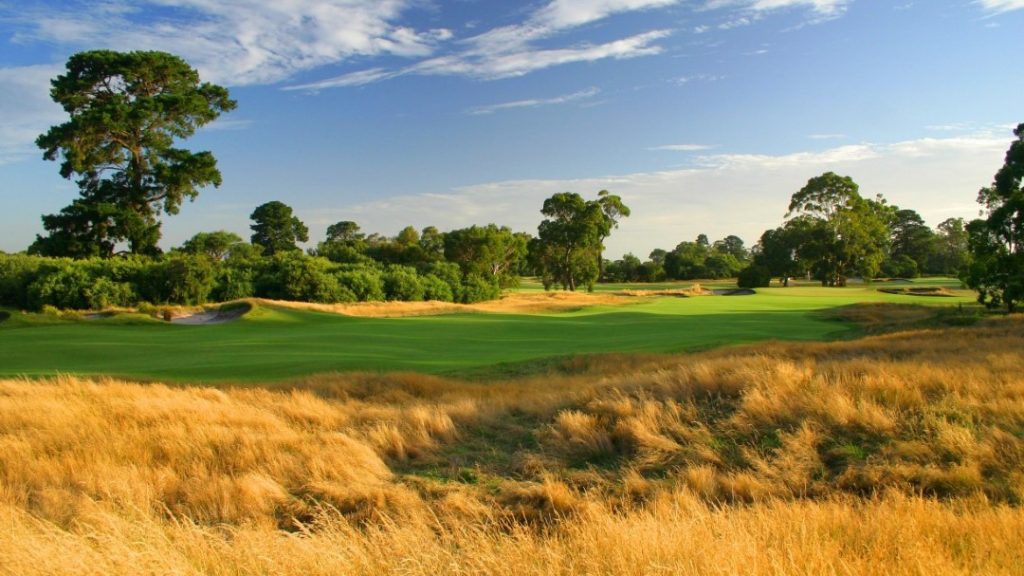 Designers: Dan Soutar (1925), Dr Alister MacKenzie (1926), Graeme Grant (1983-1995); Geoff Ogilvy, Mike Clayton, Mike Cocking & Ashley Mead – OCCM (2018); Geoff Ogilvy, Mike Cocking & Ashley Mead – OCM (ongoing).
Average points: 95.75.
2018, 2016, 2014, 2012 rankings: 4, 3, 4, 2.
Designed by Dav Soutar in 1925, this course is located in the famous sandbelt region of Melbourne. It has been suggested that Soutar created the best natural bunkering one would ever wish to encounter and Kingston Heath is an ultimate example of strategic golf. The long par four, 6th running parallel to the 1st and heading back towards the clubhouse is one of the best par fours in the country. It's, therefore, no surprise that Kingston Heath has stood the test of time and rates among the best courses in Australia and the world. The Australian masters were switched to Kingston Heath in 2009 where Tiger Woods is said to have won his first-ever stroke play title in Australia.
Matt Mollica is also quoted to have said "Kingston Heath continues to enjoy a very high ranking. The Heath is a magnificent place to play golf and features so many wonderful shots. The course's bunkering consistently wins acclaim from all who play there, and the green complexes are among the best in the nation".
Things to do in the Region:
Melbourne is a cosmopolitan city brimming with arts, music, shopping and fine cuisine, finding activities in Melbourne for the non-golfer is easy! Take in a long lunch or check out the Royal Botanic Gardens leading the way in conservation of plants through biodiversity research, programs to protect rare and threatened plants. Drop into the magnificent National Gallery for a taste of fine arts. Step out onto Eureka Skydeck for jaw-dropping 360° degree views of the city. Take a day trip to the Yarra Valley to sample some wine or venture further a field down the Great Ocean Road. Browse the open-air Queen Victoria Markets packed with fresh produce, clothes and bric-á-brac. Take in a play or live show at one of the many entertainment venues Melbourne has to offer. Or simply relax and pamper yourself at one of the many indulgent day spas in Melbourne.
Trip 2. Mornington Peninsula
Victoria
Boasting stunning scenery and a whole host of activities, it's no wonder a golf trip to the Mornington Peninsula is a popular choice and one of Australia's best golfing holidays.
Our suggestion for the Mornington region is to incorporate 18 holes at the following golf courses; Peninsula Kingswood Country Club North and South course, The National Golf Club – Cape Schanck which has 4 courses Gunnamatta Course, Moonah Golf Course, Old Golf Course and Long Island Golf Course.
Where To Stay: RACV Cape Schanck on the Mornington Peninsula is perfectly positioned to enjoy this scenic region and rests in close proximity to the course at Gunnamatta. Alternatively, stay onsite at Peninsula Kingswood's luxury accommodation right in the heart of the Sandbelt or Peppers at Moonah Links.
Peninsula Kingswood Country Club – North
Course – Frankston – VIC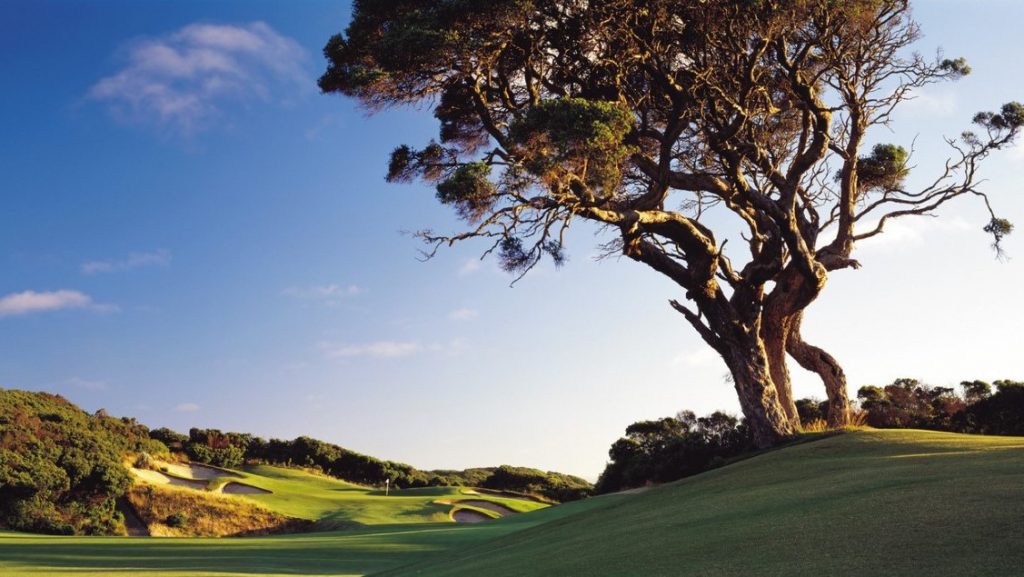 Designers: Sloan Morpeth (1969); Mike Clayton (2002); Geoff Ogilvy, Mike Clayton, Mike Cocking & Ashley Mead – OCCM (2019).
Average points: 96.33.
2018, 2016, 2014, 2012 rankings: NR, 20, 18, 17.
As part of the famous Sandbelt region, this course could be accessed from Trip #1 but it's location in the bayside city of Frankston, brings it in closer proximity to your Mornington Trip #2. The Peninsula Kingswood is home to two championship golf courses. Sloan Morpeth built its North and South courses in the 1960s before local golf designer Michael Clayton was employed to oversee revisions to all 36 holes in 2002. Both courses were redesigned again in2014. The most recent changes were unveiled in late 2018 with the radical reshaping of all 18 greens, tees, and much of the bunkering. Course conditioning was also part of the improvements as well as resurfacing the greens to Pure Distinction bentgrass which provides a beautiful surface to putt on.
Showcasing one of the best land parcels for golf on the sandbelt, with exceptional green complexes and gorgeous bunkering, this course is full of great green complexes and clever fairway bunkering.
The National Golf Club – Gunnamatta Course –
Cape Schanck – VIC
Designer: Tom Doak (2019).
Average points: 92.9.
Debut ranking: 10
Tom Doak designed the Gunnamatta course which ensures the club will continue as a top-ranked piece of golf real estate in the country. His re-working of the old Ocean course has been a revelation, the routing becoming more sophisticated and the greens more organic and individual. The National Golf Club is located at Cape Schanck on Victoria's spectacular Mornington Peninsula just a short drive south of Melbourne. Tom Doak added a high degree of variety and fun factor, ultimately making the course playable for a wide range of golfers.
St Andrews Beach Golf Course – Cape Schanck – VIC
Designers: Tom Doak
Average Points: 89.98
Ranking: 13
St Andrews proclaims itself 'a true golf experience' shunning sign ins and membership committees in favour of simply good golf. A challenging course, it rewards risky play, but wide fairways make it accessible to the average golfer. Tom Doak's course design impressively incorporates the natural terrain, with a strategic layout that demands players consider their shots carefully. The surrounding landscape offers scenic views over open, rolling greens and native flora.
Things to do in the Region:
In this stunning part of the world you are blessed with many activities to keep you amused. Visit the award-winning Peninsula Hot Springs and relax in the thermal mineral waters or visit the day spa. The Ashcombe Maze & Lavender Gardens are another popular choice for visitors to the area. Visit one of the many Mornington Peninsula wineries or the famous Cape Schanck Lighthouse. Spend the day browsing though art galleries and studios or swim with the Dolphins and Seals on the picturesque Mornington Peninsula.
Trip 3. Barwon Heads
Victoria
Bordered by rocky headlands, surf beaches, and the Barwon River, this region boasts 3 of the top 30 public golf courses in Australia and there are also plenty of natural wonders to explore. Typically featuring windy conditions and undulating, sandy terrain, the surrounding golf courses present a challenging and scenic experience for any golfing enthusiast.
Within a stone's throw of the coastal town of Barwon heads, you will find Barwon Heads Golf Club, Barwon Grove Golf Club, 13th Beach Golf Links and Ocean Grove Golf Club which present a wealth of charming and unique courses to explore.
Where to Stay: We recommend staying at Barwon Heads Golf Club's Clubhouse, which has been called the best clubhouse in Australia thanks to its heritage charm and the magnificent views from the balcony overlooking the course. Enjoy luxurious open fireplaces and a variety of facilities including the billiards tables, tennis court, driving range and coaching area.
Barwon Heads Golf Club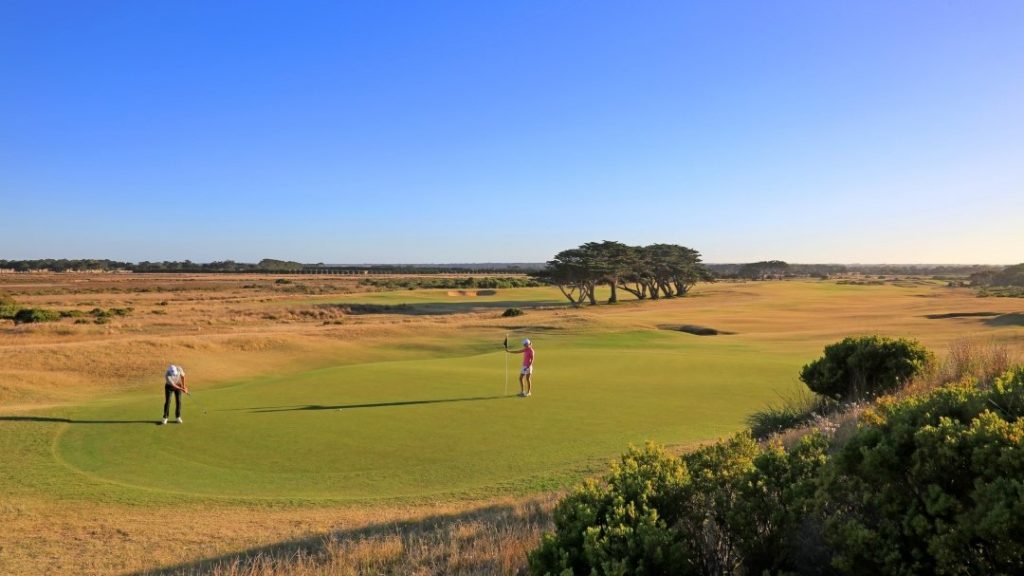 Designers: Leigh Winser, Crafter and Mogford
Average Points: 87
2018, 2019 Ranking: 8,7
Barwon Heads golf club was the first country club in Victoria established in 1907. The links course regularly rates in Australia's top golf courses, sitting at number 7 in 2019. Hazards, subtle slopes, and challenging tee positions await between sublimely maintained turf. The course is conveniently positioned beside the charming coastal town of Barwon Heads.
13th Beach Golf Links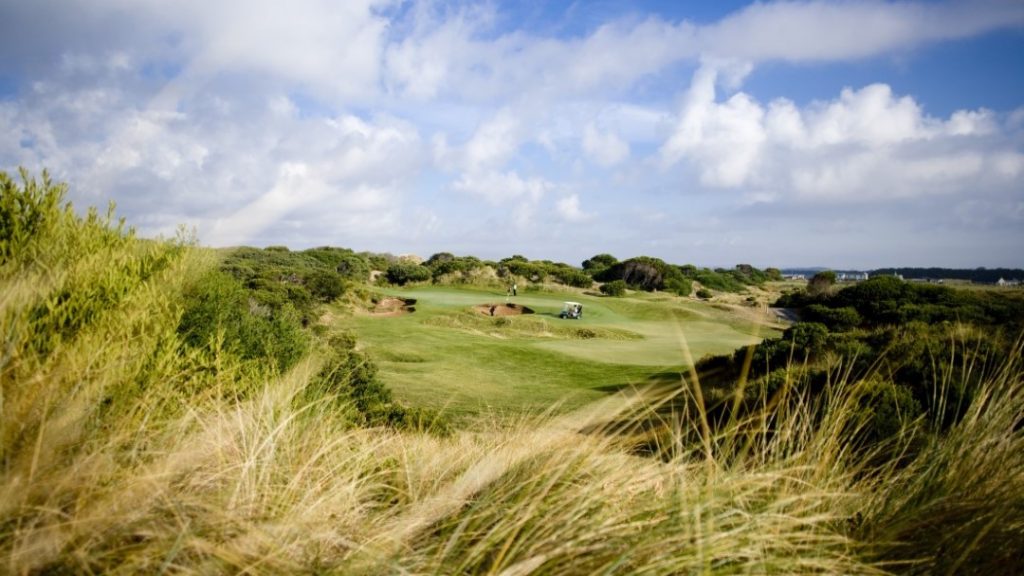 Designers: Tony Cashmore, Nick Faldo
Just a few kilometers along the coast you will find 13th Beach Golf Links, with two award winning courses, the Beach Course, and the Creek Course. The Creek Course features a deep cut bunkers and couch fairways, while the Beach Course plays away from the clubhouse and into rolling natural landscapes. The Beach course caused a stir when it opened in 2001, and found much acclaim for its strategic design, and particularly for a set of par 3's.
Things to do in the region:
The coastal township offers ample opportunities to enjoy some retail therapy, scrumptious dining, and splashing in the surf. Explore the surrounding vineyards, eateries and distilleries and wander down Hitchcock Avenue to pick up some unique souvenirs. Take a surfing lesson and enjoy some of the best waves in the country, or simply enjoy a dip in the ocean. Learn about local marine creatures at the Barwon Bluff Marine Sanctuary or visit the koalas at Jirrahlinga Wildlife Sanctuary. For even more excitement, visit Barwon heads airport to embark on an incredible scenic adventure flight to view this beautiful region from above.