Qatar now counts 5 Australian cities on their revised route map. Adelaide is the 5th to return to Qatar Airways network. Coronavirus crisis has changed many things for Airlines and its exciting to see Adelaide return from August 16th 2020 with non-stop flights to Doha and beyond. They will run two return flights per week using its Airbus A350-900 aircraft. The service will cater to ex-pats coming back to Australia plus returning travellers and residents holding a government-granted 'travel exemption'.
These aircraft do not have the Qsuites in business class but they do have fully flat business class beds in a 1-2-1 layout giving access to the aisle.
Simon Birmingham the Federal Minister for Trade, Tourism and Investment said "While international travel restrictions remain an important line of protection for Australia against COVID-19, the resumption of services will provide another avenue for repatriating Australians. And these flights will also eventually provide a path for international tourists into South Australia when our borders re-open".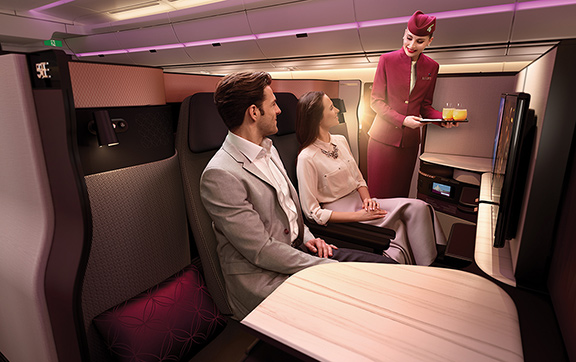 The new schedule will see flights leaving Doha on Sundays and Thursdays departing at 12:35 am local time and touching down in Adelaide on the same calendar day at 8:20 pm. The return flight to Doha pushes back at 10:20 pm also on Sunday and Thursdays and will reach Doha at 5:50 am the following morning. Passengers flying out of Adelaide can connect from Doha to the Middle East, Europe, Africa and the Americas and some cities across South Asia.
All passengers arriving in Adelaide on the international flight are required to complete the 14 days mandatory hotel quarantine before returning home. The cost of this Quarantine is currently $3,000 for one adult or $4,00 for two adults sharing a room. Children over 3 yrs are billed at $500 each. This cost covers accommodation and meals.
Qatar Airways has daily flights from Sydney, 3 return flights per week from Doha and 4 return flights per week for Perth as well as the daily flights from Melbourne to Doha. The inbound flights from Doha are being flown without passengers on board because of the government restrictions in Victoria.
From the 19th of August, they will extend to Auckland with outbound passengers from New Zealand via Brisbane. This will remain on the airlines' schedules until mid-October.