Wheelchair Travel in Egypt and Jordan Youtube Video

I'd not given much thought to wheelchair access when travelling before, yet a painful accident in Egypt made me rethink everything.
My sister and I were heading to the Ancient World, visiting the august sites of Egypt, Jordan and Israel. We had it planned out, a total 4-week trip. We'd been there 5 days when suddenly my sister tumbled, leaving her with multiple fractures and wheelchair-bound. We had to cancel our trip to Israel.
This is my account of how accessible travelling there is for people with less mobility in Egypt and Jordan.
Although the accident happened after the first few locations, I've reflected at how easy or difficult it would have been visiting them in a wheelchair. If you can add any details, please feel free to leave a comment.
Egypt
Cairo
The teeming city of Cairo with its bustling markets and streets might seem an intoxicating place for some. Yet for those in wheelchairs, it is not the most hospitable place. Kerb ramps to access the pavements are non-existent, and the only easy way to tour the city is via a specially-designed taxi. Known as TX4 black cabs, they have ample room, wheelchair ramps and windows galore to see the sights from inside. With English-speaking drivers available and bookable cabs arriving within the hour, they're a stress-free option for immobile visitors. While the price is higher than regular taxis, they're still relatively cheap in comparison to Sydney and London.

The Great Pyramids of Giza (and the Sphinx)
With over 14 million annual visitors on a bumper year, the Great Pyramids are never quiet. That doesn't mean, however, that they are completely inaccessible to wheelchair users. Close-up exterior views of these colossal structures are impressive and easy to reach for everyone. The wide pavements provide good mobility opportunities and a horse drawn carriage ride might be an option if you're able to get into it initially. Going inside the Pyramid chambers, however, is not feasible due to the steps and small enclosed spaces.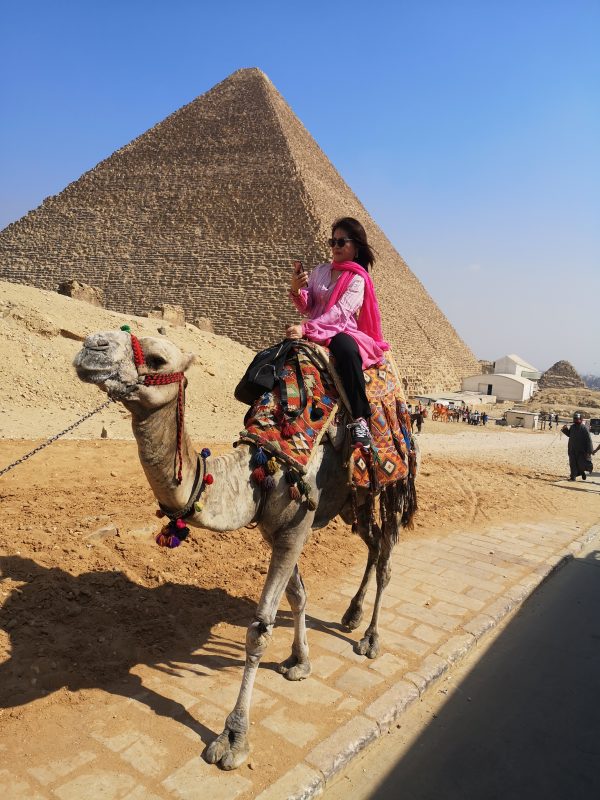 Cairo Airport
The modern, brightly-lit airport at Cairo is, thankfully, wheelchair-friendly with ramps, elevators and toilets for disabled travellers. If you require assistance around the airport, you're best contacting the airlines as far in advance as possible. But be aware, the airport wheelchairs and aisle chair equipment are old and uncomfortable.
Luckily, both Luxor and Aswan airports are built on one level making it easy for wheelchair users to navigate.
Luxor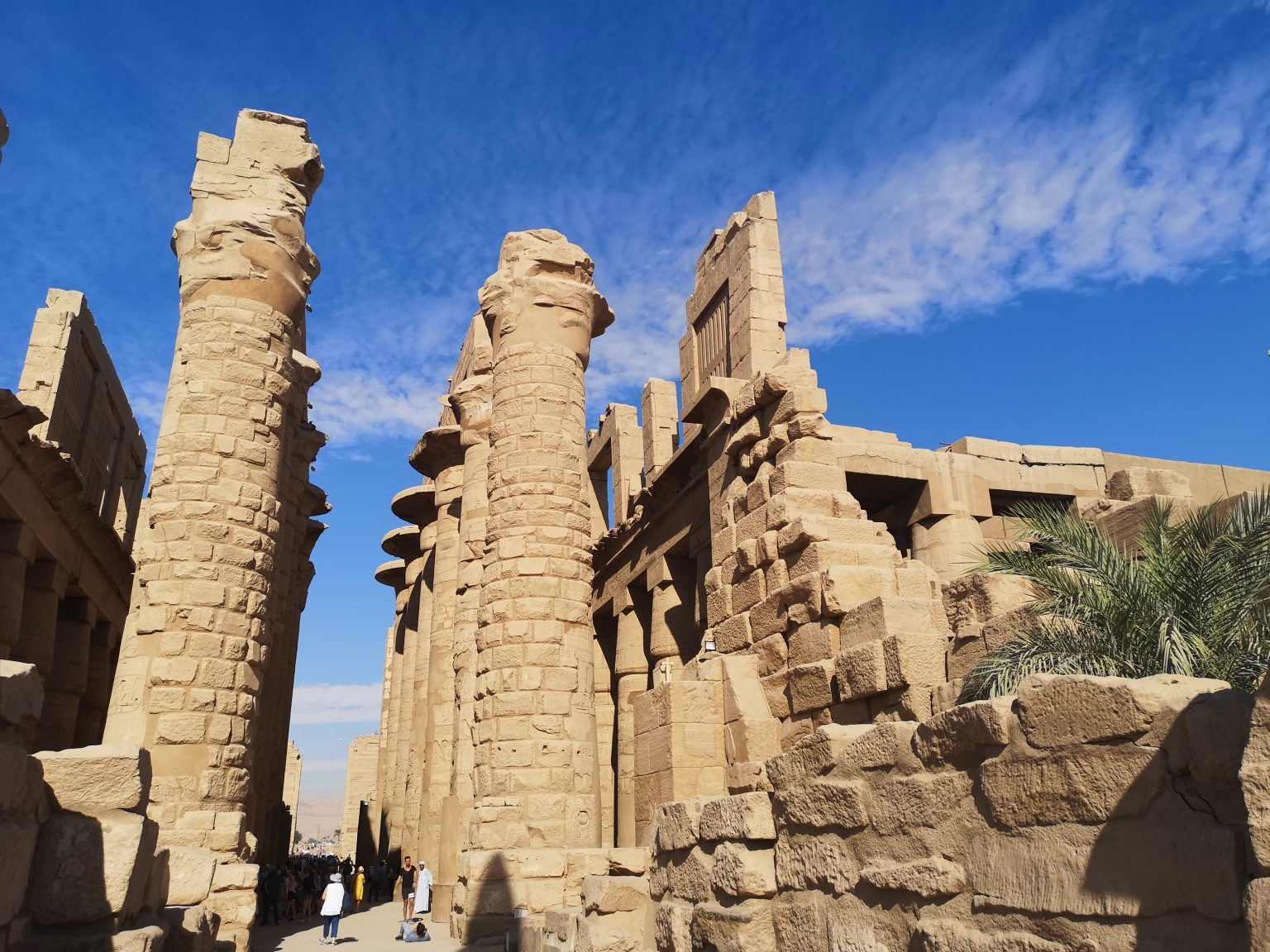 Located 650km south of Cairo is Luxor, the stepping stone for myriad ancient sites, including Karnak – an ancient temple complex – the Valley of the Kings, the Colossi of Memnon, plus Hatshepsut Temple.
While Luxor surrounds might not be the most wheelchair-friendly, it is possible to get around with the help of a companion. You won't have much difficulty at Karnak nor at the Colossi of Memnon as the pavement is reasonably flat. Yet where the early tombs stand (18th and 19th Dynasties) at the Valley of Kings, there are an abundance of staircases which twist deep into the ground, making it very difficult for people with less mobility. Thankfully, the chambers from the 20th Dynasty are high, wide and gently slope downwards, making it easier to navigate in a wheelchair.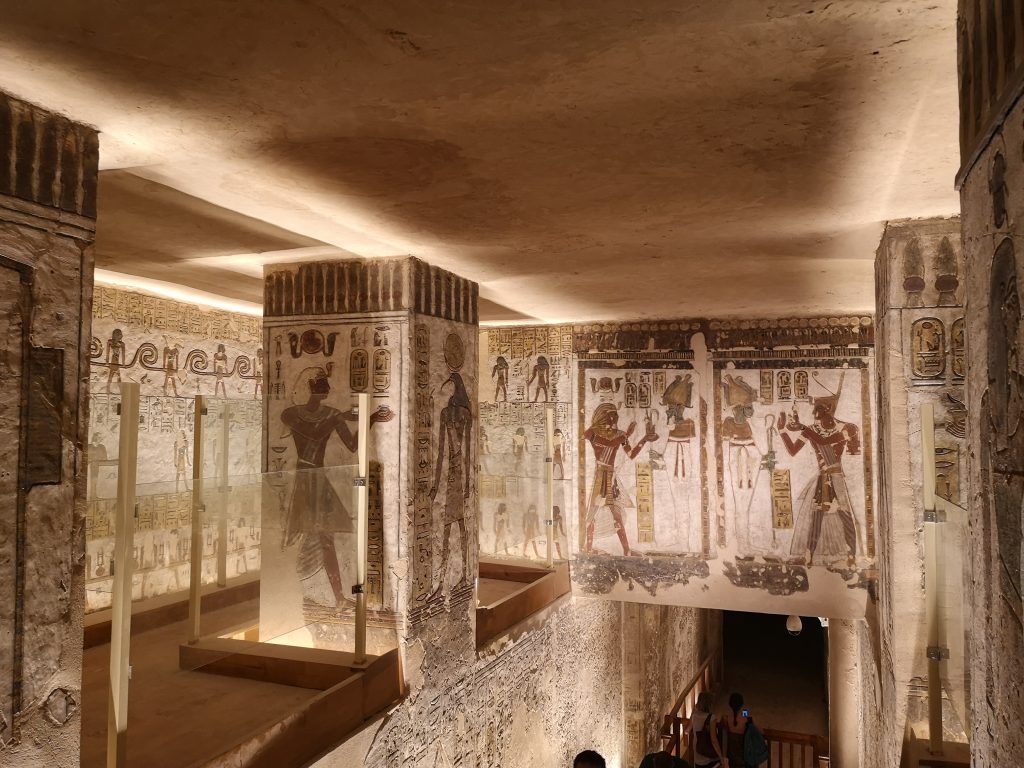 At the impressive resting place of Egypt's longing reigning female pharaoh, life is a little easier. Hatshepsut Temple has a little Noddy train between the car park and the structure, while the temple itself has a long, ancient stone ramp for access to each level. It is a little steep, though, so do bear that in mind.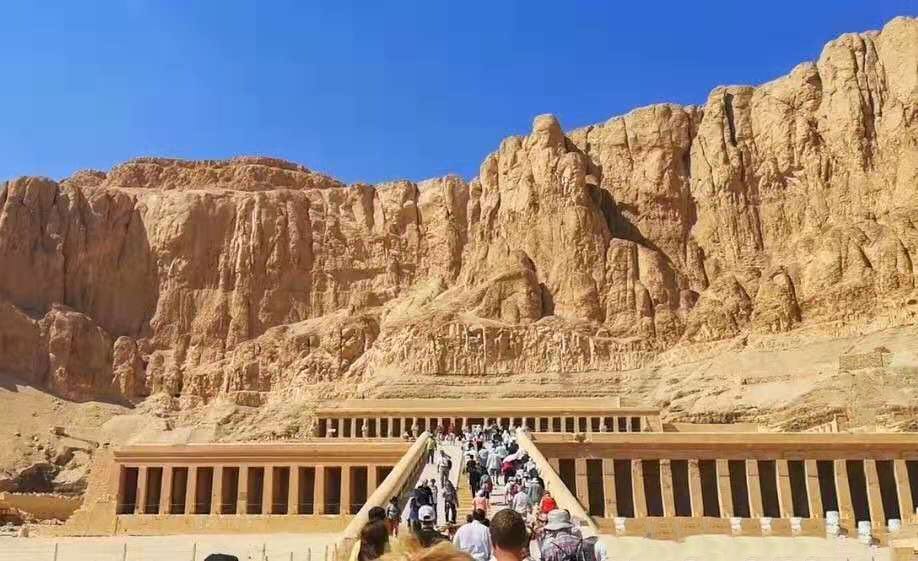 Edfu Temple (and the accident)
The impressive temple of Edfu, with giant drawings on its walls, was unforgettable for us. Mainly because this is where my sister Rony had her accident. Although the pavement is actually reasonably flat, she fell over a small piece of raised concrete just outside the temple and fractured her toes in multiple places. The locals rushed to her aid, brought her a chair, water, ice and called for an ambulance. But in Egypt, it's tough to know whether people are assisting out of the kindness of their hearts or because they want paying. It seems everyone expected tips, including the policeman and the security guard who helped wheel the stretcher to the ambulance.
Arriving back at the boat we were travelling on, the doctor, accompanied by a portable x-ray which looked like an ancient relic itself, came to Rony's aid. He plastered Rony's leg in next to no time and told her to keep the weight off it. Cue the wheelchair.
The Temple of Kom Ombo
The Temple of Kon Ombo, renowned for its glorious setting on the banks on the River Nile, was our first wheelchair challenge. The ship docked right opposite the large columns and carved walls, but unfortunately the steps would have been too difficult for Rony. This was a wheelchair fail and she couldn't disembark. I found online, however, the temple is included on wheelchair tour itineraries with some companies. I can only assume they have equipment to carry people up the stairs or there's another way to get there on flat pavements.
Aswan
Just as gondolas are synonymous with Venice, a felucca is to Aswan. The traditional wooden boats, decked out in vibrant cushions and a cotton sail, whisk tourists on quick sightseeing tours. Yet for wheelchair users, it's almost impossible. Equally as difficult is a visit to Philae Temple in Aswan, with a compulsory boat transfer, its steps and uneven surfaces, which meant Rony wasn't able to join me. We did manage, however, to sweeten the trip slightly, by heading with the wheelchair to the Philae Essences Palace, a perfume emporium and the local market. The next day at the plush Movenpick at Aswan, we were met with excellent facilities: Outdoor and indoor pools, an outdoor terrace bar overlooking the Nile and the hotel restaurant which were all wheelchair friendly. Arriving at the Movenpick island by boat wasn't the easiest, but there were people on hand to help, and people with their hand out for a tip!
Abu Simbel
Carved into a mountainside stand two towering temples, Abu Simbel, majestically sitting on the banks of the Nile. We reached the sandstone relics in a comfy minivan, and their a buggy taking you from the entrance to the temples, but the ground outside and inside the temples didn't appear to be wheelchair friendly. Therefore, Rony chose not to go in, but instead visited the on-site museum to get a taste of the monuments.
On the way back to Aswan, we witnessed mirage in the desert for the first time! Apparently it is a regular event and became a tourist attraction.

Aswan Airport

Waiting for us on the tarmac was a Nile Air truck which had a raised platform to help Rony and another wheelchair passenger to the aircraft. It was like being in a cargo truck – but it was hassle-free and efficient.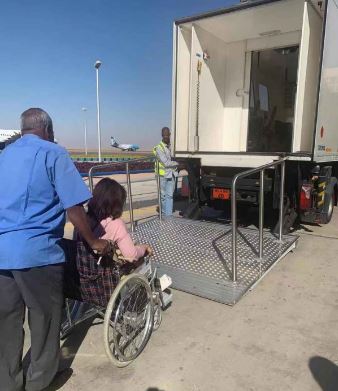 Jordan

With jostling streets and chaotic traffic, Jordan doesn't rank high on the list for wheelchair users. Roadside kerbs can be uncommonly high and many of the sites involve long walks over uneven ground. Yet it's not all bad news. The Jordanian government has legislated that wheelchair access must be added to all new public buildings. Although they still have a long way to go, this is a step – or rather a ramp – in the right direction. On top of that, entry to some attractions, including Petra, is free for those with a disability.
Amman
Arriving at Amman Airport, Rony had no problems getting about in the wheelchair provided by the airline. Similarly at our hotel, Amman Rotana, we had great wheelchair assistance. As with most things here, airports and accommodation, it's best to notify them of any required assistance beforehand.
Dead Sea
A plaster cast in the Dead Sea? Well, yes! With plenty of assistance, of course.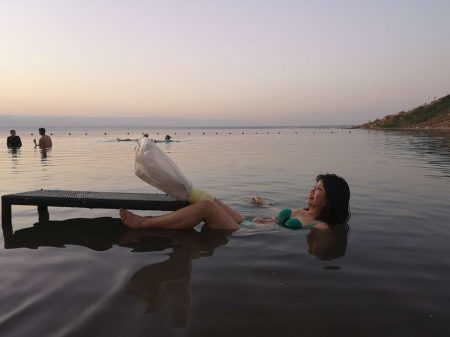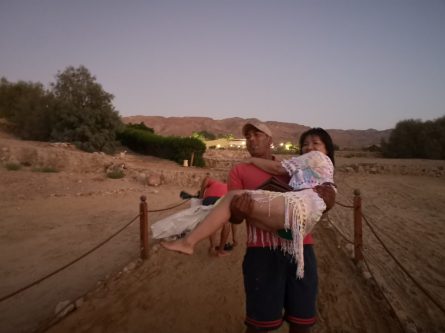 After taking a private hire car from Amman, we reached the luxurious Kempinski Hotel Inshtar. With buggy access around the expansive resort, several swimming pools and wheelchair-accessible areas, it turned out to be a top choice. Not least because of the imaginative staff. Rony was offered a Dead Sea experience at the Ishtar Spa with her plaster wrapped in myriad plastic bags. But it didn't really cut it, so with the help of numerous staff members, Rony was carried down to the waterfront and balanced in the saltwater to get a real Dead Sea experience! As to be expected, monetary tips were the catalyst for the amazing service, but it was well worth it to see her smile!
Petra
We took uber from the Dead Sea to Wadi Muse, the town closest to Petra, arrived after approximately 5 and-a-half hours.
After a night's rest, we entered Petra early in the morning and hired a horse carriage at the entrance at 45JD, for the main trail which is 4km long and had an hour stop at the Treasury. .. The horse carriage does not take you to the monastery, you have to take a donkey ride to get there, which we did not do.
The most convenient and best stay in Petra is at The Mövenpick Resort , located directly at the entrance of Petra. The resort staff will help taking you in a wheelchair across the street to the visitors centre.
Petra Guest House Hotel is also located at the entrance to Petra, but it doesn't look as nice as Movenpick.
Wadi Rum
I always wanted a desert glamping experience, dramatic red monoliths and weather-worn rocks make Wadi Rum the prize pick for sunset drinks. Just a 90-minute taxi trip from Petra (we were unsure about wheelchair access on the local buses) and we'd arrived at the UFO Luxotel.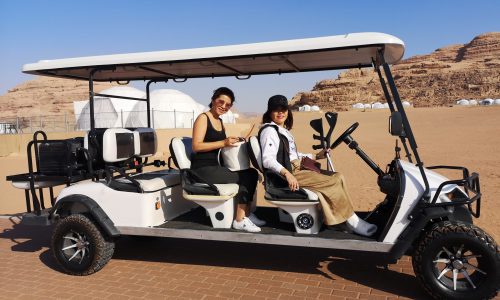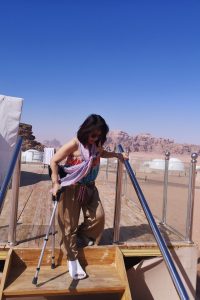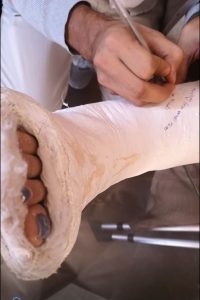 The amenable staff, who tried out their handiwork on Rony's plaster, were only too happy to ferry us about the resort in golf buggies. While we needed assistance in a couple of places with steps, it was pretty wheelchair friendly.

There are no direct public transport from Wadi Rum to Amman. We booked the same uber driver, it took just over. 6 hours..
For these long trips in Jordan, you can negotiate discounts with uber drivers or ask hotel staff to book for you.
Although we cut our trip short, we learnt a great deal about how we take travelling able-bodied for granted. I know without the help of locals, staff, and having a travel companion, Rony's trip would have been a very different experienc