Some of the best wine making conditions are found in Australia. You are never far from a world class wine region in this amazingly diverse terrain. With several climates across the country, Australian wine shows varied complexities and characters. Regardless of your palate or your wine tasting expertise, there is a cellar door to suit in Australia.
Beyond the big names you can find a range of boutique wineries who all offer unique experiences. A tour of historic underground cellars or even a chance to bottle your own drop.
WESTERN AUSTRALIA
MARGARET RIVER AREA -WA
Some of the most elegant wines are produced in Western Australia. Three hours south of Perth is the Margaret River region which is the most famous wine region of the state.

Cullen Wines – Margaret River WA
The first vineyard and winery in Australia to be certified carbon neutral.Offering a number of seated tasting experiences in their Biodynamic Carbon Positive Wine Room or in the Cullen Restaurant. There is also a self-guided tour allowing visitors to stroll through the gardens and learn about the fascinating biodynamic process.
Wine to try: 2017 Cullen Diana Madeline.
Leeuwin Estate – Margaret River WA
With exports to more than 30 international markets, this family owned vineyard is renowned for its produce and famous for staging spectacular events welcoming visitors from around the world. The art gallery also boasts more than 100 paintings from Australian artists. Along with a celebrated restaurant, they offer a behind the scenes tour, departing daily. Wine to try: 2015 Art Series Chardonnay.

Vasse Felix – Margaret River WA
This is Margaret Rivers founding wine estate. Established in 1967. Sample the wines à la carte at the Cellar Door Tasting Bar. There is also an art gallery and a dedicated wine museum called "The Vault" to enhance your wine tasting experience.
Wine to Try: The first red wine produced in the area – The Vasse Felix Cabernet Sauvignon.
Accommodation – Margaret River Area
A private, stylish and sophisticated retreat surrounded by its own vineyard. For those seeking luxury blended with country charm, Cape Lodge has 22 romantically secluded rooms and a magnificent 5 bedroom private luxury Residence.
SWAN VALLEY AREA – WA
Located only 25 minutes from Perth you can find over 40 wineries, cideries, distilleries and six boutique breweries. This is the oldest wine region in WA. The region offers a Hop on/ Hop off tour of the area so you can create your own personalized tour of the area.
Mandoon Estate – Swan Valley WA
Known for its fine dining restaurant Wild Swan Mandoon is also home to Homestead Brewery which is WA's newest craft brewery offering a selection of unique ciders and beers. The estate is situated on the banks of the Swan River. There are a range of experiences you can choose from; private tours, river cruises, bush tucker tasting and scenic chopper flights. Another of their popular more casual dining areas is the Llawn, a family-friendly, alfresco area with picnic tables, a full enclosed playground and live music on the weekends.
Wine to Try: The 2012 Reserve Cabernet Sauvignon as well as the 2011 Reserve Shiraz.

Accommodation – Swan Valley Area
Stay at the best properties in Perth city:
A sweeping view of Swan River and the Perth skyline is the backdrop for nearly every experience at The Ritz-Carlton, Perth.
COMO The Treasury is a 48 ­room contemporary luxury hotel in Perth's newly revitalised historic heart.
SOUTH AUSTRALIA
It is no surprise that South Australia has been officially named as one of the nine 'great Wine capitals of the world'. It is home to 18 wine regions.
BAROSSA VALLEY AREA – SA
There are over 80 Cellar doors in the Barossa. You can also find sumptuous food, opulent accommodation and five star retreats. Due to the areas Mediterranean climate the Barossa's Cabernets and Shiraz' are unbeatable.
Jacob's Creek – Barossa Valley SA
The grounds of this estate are vast and beautiful. Take a walk or bike ride between the vineyards. Visitors can enjoy tour the demonstration vineyard with 14 grape varieties. With a fantastic restaurant offering sweeping views of the hills and vineyards.
Wine to try: we recommend trying a limited release wine which will be sold exclusively at the cellar door.

Yalumba– Barossa Valley SA
Five generations and 170 years later Yalumba, Australia's most historic family owned winery, has grown in size and stature, embodying all that has made the Australian wine success story the envy of winemakers the world over.Wine to try: 1919 Para Vintage Tawny from the Centennial Collection. Wine to try: The Reserve Cabernet Sauvignon Shiraz and The Octavius Old Vine Barossa Shiraz
Accommodation – Barossa Valley Area
An idyllic luxury vineyard retreat, with just fifteen luxuriously appointed suites, each with its own terrace. Surrounded by breathtaking views across the world renowned Barossa Valley.
MCLAREN VALE AREA – SA
The McLaren Vale region is 45 minutes South of Adelaide. It is home to world class wines and culinary experiences. It is best known for Shiraz but also produces ultra-premium Grenache and Cabernet.
Wirra Wirra Vineyards – McLaren Vale SA
Famous for its organic wines free from systemic chemicals and pesticides, Wirra Wirra has an all- natural approach and is well known for its much acclaimed Church Block Label
Wine to try: The amator range exclusively available at the cellar door.

Accommodation – McLaren Vale Area
A relaxing and stylish retreat with guest houses offering sweeping views of the idyllic vineyards. With contemporary and well-appointed guest houses that are elegant and sophisticated.
ADELAIDE HILLS AREA – SA
Adelaide hills region is diverse in terms of climate, soil and topography. It's located east of Adelaide and is a narrow band approximately 70km long. The region boasts over 90 wine labels and 50 cellar doors. It is the closest wine region to the CBD of Adelaide. Often the vineyards in this area are small and steep. Hand picking and pruning is often a necessity and is also a choice.
Penfolds Magill Estate – Adelaide Hills SA
Penfolds has 175 years of history and is one of Australia's most renowned wine brands. You can visit the underground tunnels, grange cottage and heritage listed Bluestone cellars and still house. Located only 15 minutes from Adelaide, Penfolds has a strong international following. The Penfolds Chardonnay portfolio has received remarkable wine show success. You can even take the opportunity to make your own blend.
Wine to try: 2016 Barossa Valley Shiraz Coonawarra Cabernet Sauvignon.

Accommodation – Adelaide Hills Area
Step back in time with this enchanting, award-winning hotel where guests are welcomed with unparalleled privacy, timeless idiosyncratic architecture and dedicated antique settings. This private, unique property has been Small Luxury Hotels of the World property since 1995.
VICTORIA
Victoria has more than 800 wineries and 600 cellar doors across five outstanding regions. The perfect grape style to suit every palate can be found here. Rest assured that Victoria has many picture perfect locations waiting for you to explore.
YARRA VALLEY AREA – VIC
This area is the states oldest growing region and is situated East of Melbourne. 1838 was the year the first grapes were planted and although 170 years old the area is known for its revolutionary winemakers. It is only one hour from Melbourne CBD so it's a nice day trip if you're staying in the city. There is a plethora of cafés, amazing restaurants and world class wine, often a day is just not enough!
Oakridge Wines – Yarra Valley Vic
A contemporary estate that opened in 2013. The architecturally designed building is striking and its sleek industrial lines contrasts with the surrounding vines. Enjoy lunch at the one hatted restaurant Oakridge. Chefs Matt Stone and Jo Barrett use fresh ingredients from the garden and serve a seasonal menu.
Wine to try: Semillon, chardonnay or Pinot Gris.

MORNINGTON PENINSULA – VIC
Charming pastures and rolling hills are abundant in this beautiful and un-spoilt area. Located an hour south of Melbourne, you can enjoy the pristine beaches and green hinterland as well as more than 50 boutique cellar doors along with renowned pinot noir. Almost half the vines planted on the Mornington Peninsula are Pinot Noir, closely followed by Chardonnay.
Ten Minutes by Tractor – Mornington Peninsula Vic
There are three family owned vineyards which are all ten minutes apart by tractor. Their passion is great wine and great food. They opened the restaurant in 2006 creating a memorable experience for guests with views over the vineyards and the rolling hills of Main Ridge. You can choose from the "Concise" tasting menu or the "seasonal" tasting menu. The wine list is extensive but focus is on the key varietals grown in the region. Chardonnay, Pinot Gris and Pinot Noir.
Wine to try: Pinot Noir

Accommodation – Mornington Peninsula
With stunning views overlooking the beautiful Bass Strait and Port Phillip Bay, this ultra-modern, five-star coastal retreat includes a luxury spa, magnificent golf course, and restaurants that serve locally sourced food and wine.
NEW SOUTH WALES
THE HUNTER VALLEY AREA – NSW
The Hunter Valley is the oldest wine region in Australia. Situated three hours' drive from Sydney. It offers more than 150 wineries, plenty of restaurants, and kangaroos sightings across sweeping landscapes.
Tyrrell's Wines – Hunter Valley NSW
A perfect choice to learn about the history of winemaking in the region and is one of the most popular family owned wineries in the Hunter Valley. Established in 1858 you can enjoy stunning views of the Brokenback range as well as a private wine tasting tours or behind the scenes tours to learn about the fascinating history of this five generation family vineyard.
Wine to try: Award winning Semillon, shiraz and Chardonnay.

Audrey Wilkinson Winery – Hunter Valley NSW
This would have to be the most picturesque winery in the hunter Valley with 360 degree views over the hillsides and groves of the valley. Don't forget to stop in at the free Museum, which has various barrel and wine making tools on display, along with the Wilkinson family history and heritage awarded original open cement vats.
Wine to try: an interesting Gewurztraminer.
Accommodation – Hunter Valley Area
This five-star guesthouse envelopes guests with contemporary and luxury. Located in Pokolbin, this newly renovated retreat is complete with a stunning outdoor swimming pool, tennis court, and modern Italian restaurant.
Hunter Valley luxury couple's accommodation Villa Janji with panoramic views over vineyards and the beautiful Brokenback Mountains.
ORANGE AREA – NSW
Orange is less than 4 hours drive from Sydney and has established itself as one of Australia's gourmet food and wine destinations with its lovely cool climate. Both critics and wine lovers acknowledge that the elevation and geology mark the area as rather special. There are now 60 vineyards and wineries in the area.
Heifer Station – Orange NSW
You will love this truly unique single vineyard, set among picturesque rolling hills. Heifer Station is a rustic converted sheep shearing shed with a fantastic vibe and funky interior offering much old school charm. Complete with a patting farm for the kids to enjoy, this is a wonderful spot to sit outside with the family on a sunny day and enjoy lunch. Offering intimate vineyard tours – be sure to book ahead, this is a popular choice.

Their newest wine to sample: is Genisse a Methode Australis Chardonnay/Pinot sparkling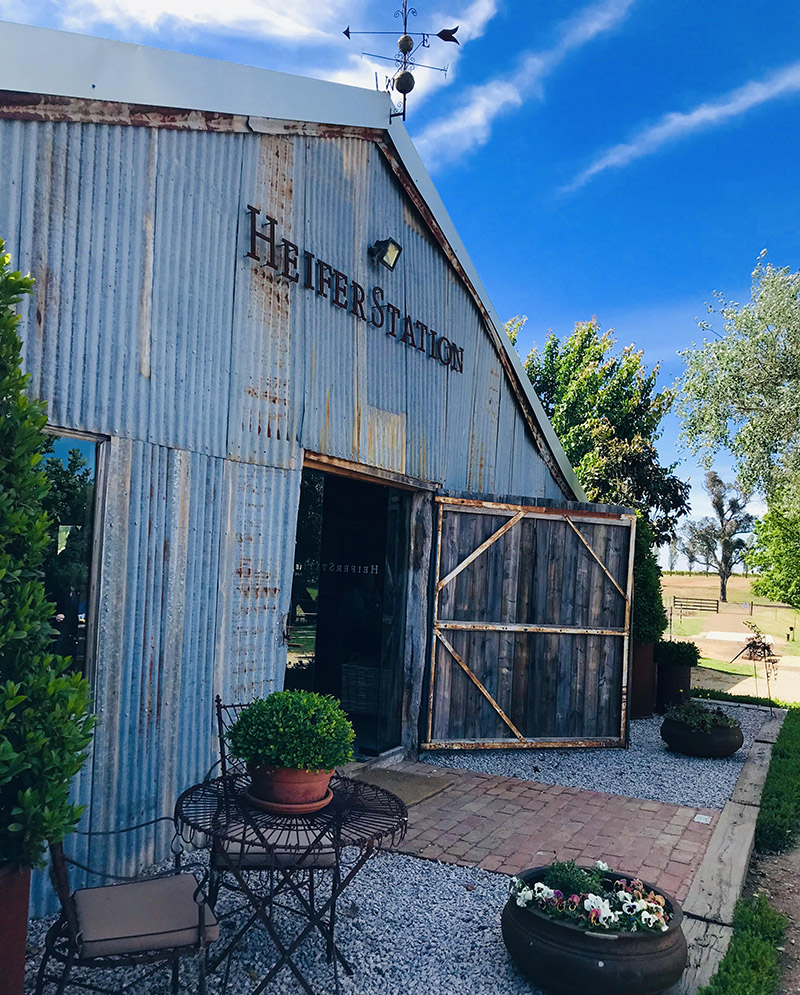 Philip Shaw – Orange NSW

Philip Shaw Wines began in 1988, recognised as one of the world's leading winemakers Philip has won multiple awards. Now run by his sons, the vineyard delivers world class wines from their Koomooloo Vineyard. A stunning location not to be missed, the Cellar Door is striking and extends off an 1870's luxurious bluestone barn and is surrounded by superb gardens and tiered lawns. Offering exquisite tasting plates to match their wines, this is a truly indulgent experience. Philip Shaw Wines produce cool climate wines of elegance with distinct varietal character.
Accommodation – Orange Region
Located in the heart of Orange's heritage precinct this historical homestead with contemporary architecture offers unique style with luxurious trimmings and sophistication. Orange's newest, high end accommodation experience includes a delicious breakfast showcasing local produce.
TASMANIA
Tasmania is home to a number of regions that produce a range of wine styles. Each of the areas offer different tourism experiences. Tasmania has mild summer and long autumn days which are perfect for making cool climate wine.
NORTH EAST AREA – TASMANIA
Bay of Fires Winery – North East Tasmania
One of the prettiest tasting rooms in Australia, with its floor to ceiling windows which look across 20 hectares of rolling vineyards and native forest. Wines to try: Arras premium sparkling wine.

Josef Chromy – North East Tasmania
Josef Chromy Wines has a state-of-the-art winery at the base of the vineyard at Relbia, just south of Launceston. With a stunning restaurant overlooking the picturesque vineyard, winery and lake the Lakeside Pavilion is the perfect location to enjoy a meal of quality at this one hatted restaurant.
Wines to try: They are known for their Pinot Noir

Accommodation – Launceston Area
This unique heritage hotel full of character, dates back to the 1960's. Overlooking several parks, basins, and gorges, this tastefully renovated hotel is located within a walking distance to the city centre.
After your taste buds have been well and truly satisfied at the vineyards, complete your Tasmanian experience with a 2 night luxury escape at the award winning Saffire Freycinet, located in the Freycinet National Park.
There is nothing quite like the wine regions of Australia. A plethora of picturesque landscapes encompassing state-of-the-art architecture, world class restaurants and incredibly diverse accommodation options to suit every budget.