Known as one of the world's most scenic coastal drives, the Great Ocean Road winds along the wild and windswept Southern Ocean. This iconic, Heritage-listed Road boasts endless scenic views and prominent landmarks, allowing each visitor to plan an adventure that is uniquely their own.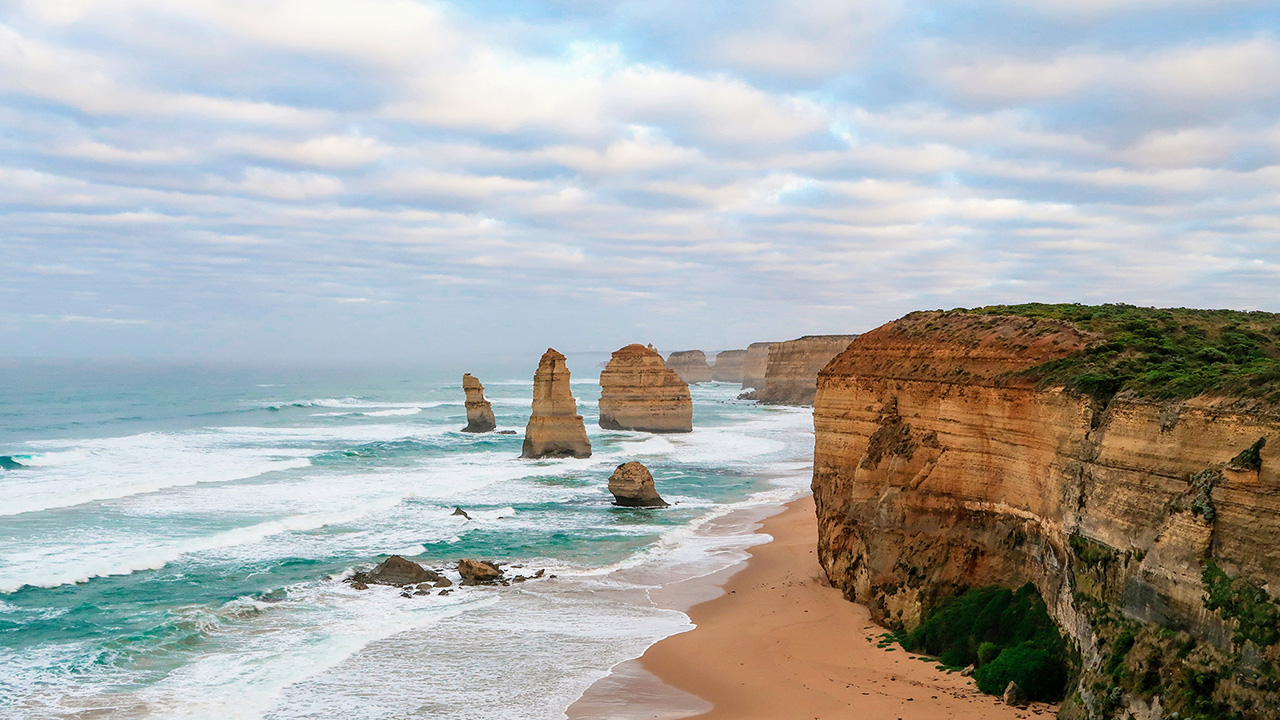 Take in the scenery
The Road's dramatic south-west coastline covers an incredible range of landscapes where steep, craggy cliffs contrast the sparkling blue surf. See iconic landmarks including the majestic Twelve Apostles, Bay of Islands, and Cape Otway. For a more aerial view, take a helicopter ride and behold the weather-battered coast from an unforgettable perspective.
Great Otway National Park
Stretching from Torquay to Princeton, the National Park is home to a diverse range of landscapes. From wild beaches and waterfalls to fern-filled gullies and dense rainforests, hike on the well-maintained trails and explore the rich tapestry of ecosystems on offer. Highlight areas include Melba Gully where glowworms illuminate the night, the skeleton-dotted Wreck Beach, and Matis Rest, a cool rainforest filled with centuries-old trees. For those wanting a more panoramic view, experience the Treetop Walk and ascend the spiral staircase to a 47-metre-high lookout to soak in the leafy crowns from above. Adrenaline-seekers can also zipline through the forest, stopping at a series of 'cloud stations'.
Beaches
Soak up the classic Aussie beach culture with a range of famous beaches along the Road. Known as Australia's surfing headquarters and home to two major surf brand giants, Rip Curl and Quicksilver, Torquay is an excellent place to hit the waves, stock up on surfing gear, and visit the Australian National Surfing Museum. Further down the Road lies one of the most famous surf beaches in Australia, Bells Beach, where the powerful swells from the Southern Ocean draw in tourists from all over the world.
---
How to get there:
---
The Road is 103km and just over an hour's drive from the Melbourne CBD. Follow the freeways until Torquay, where your adventure will begin.
Best time to go:
---
Best times to visit range from February-March or October-November, where visitors can still enjoy the warm weather and relatively dry days without the crowds and peak-season prices.
Featured Melbourne Luxury Holidays :
---